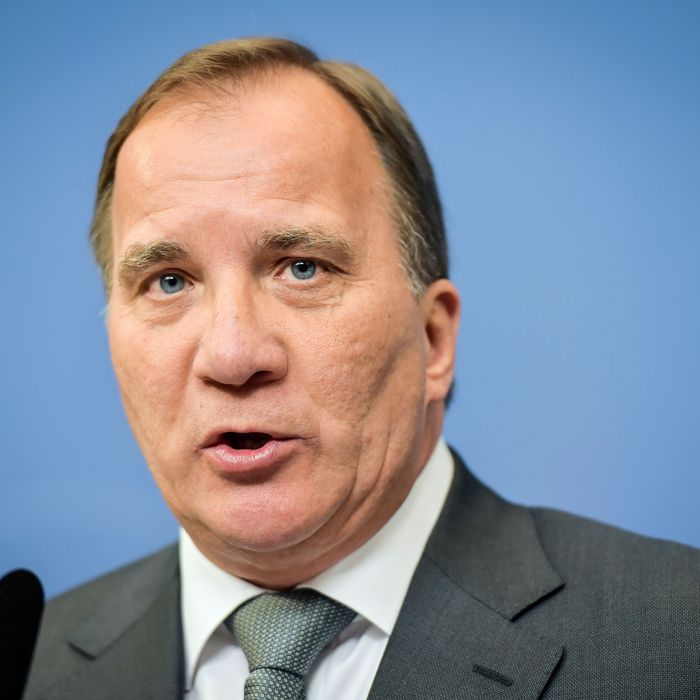 Swedish prime minister Stefan Löfven is just as shocked as the rest of us, trust me.
Photo: Stina Stjernkvist/AFP/Getty Images
The personal data of millions of Swedish citizens — along with some of the nation's classified military information — may have been leaked to other countries. The culprit? The Swedish government itself.
Swedish prime minister Stefan Löfven confirmed on Monday that private information concerning citizens of Sweden had been exposed to serious security risks after the government outsourced IT services for the Swedish Transport Agency (Transportstyrelsen) to IBM in 2015.
IBM, in turn, left an astounding amount of information exposed to a number of unauthorized users around the world — including the names, home addresses, and photos of every member of the police, secret military units, information from the witness-relocation program, information regarding the weight capacity of all roads and bridges, and details regarding the specifications of all government and military vehicles (and their drivers).
Apparently, the transport agency mistakenly emailed their entire database of sensitive information to marketers in plain text. And upon realizing their error, the agency decided to merely ask subscribers to delete the old message and later sent out an updated one. The numerous security risks presented by this were only compounded by the fact that the outsourcing of this information in the first place apparently resulted in a number of IBM staff members from around the world being given full access to the transportation agency's systems. According to the Swedish media, thanks to the issues with this setup, IBM staffers were able to access sensitive data without having the required security clearances.
The leak was first discovered in 2015 by Sweden's security police Säpo, which reported it to the Justice Ministry later that year, but information regarding the breach has only recently been made public. In a news conference on the incident, Löfven stated that he wasn't made aware of the issue until earlier this year.
Although the full details of the investigation have not been released — as it is still ongoing — it's likely that this governmental data breach is one of the largest in recent history.