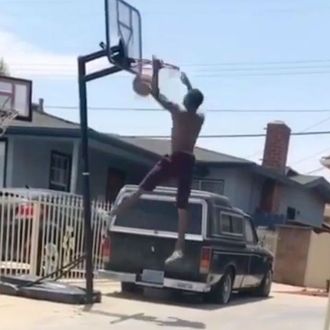 Photo: t.currie/Instagram
It's safe to say that dunking has never been hotter. Online and off, people are constantly dunking on each other figuratively and literally. America has Dunk Fever and the only prescription is … more dunkage.
The latest iteration of the Dunkpocalypse is the #DriveByDunkChallenge. Here's how it works: First, find a basketball hoop in someone's driveway. Next, dunk on it. Finally, post the video online. That's the challenge. According to Mashable, the trend stems from a video compilation posted on Instagram by user @t.currie.
From there, young adults with respectable verticals across the nation have taken to the paved driveways of America, dunking to and fro with reckless abandon. Gangs of roving teens drive their parents' Kia Sorentos through the streets at a crawl, on the lookout for unsuspecting baskets to unleash a monster dunk on. Is there any stopping these hooligans?
Salute to those who dunk and all the Dunkaroos out there.