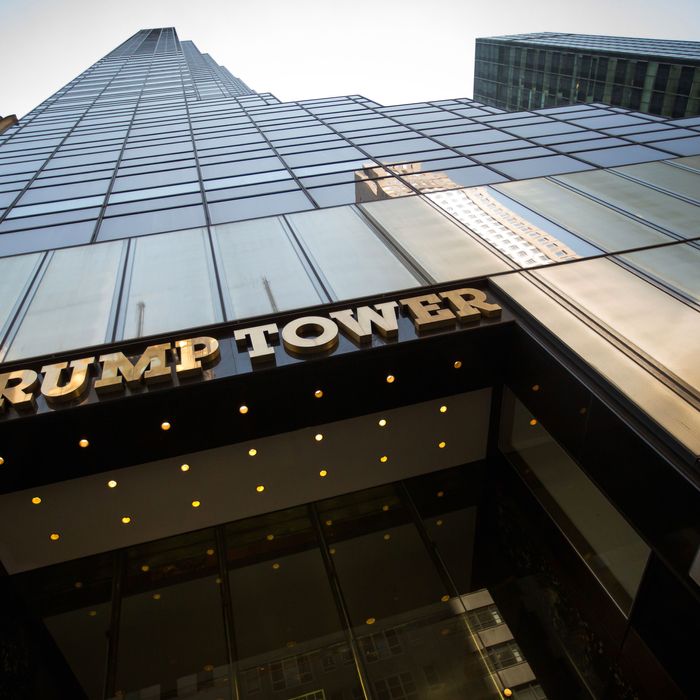 Towering rents at Trump Tower.
Photo: Bloomberg/Bloomberg via Getty Images
President Trump hasn't spent a night at Trump Tower since taking office, but just in case he does, the Defense Department is renting a 3,475-square-foot space in the building. And it's paying through the nose.
The Pentagon is dropping $130,000 per month on the unit, making it one of the "most expensive residential rentals in Manhattan," according to The Wall Street Journal. It's also more than double the $60,000 that a bigger unit was listed for in February of 2016. That was the "most expensive" recent listing in the building, the WSJ says.
Should Trump decide to spend a night in midtown, the Defense Department would use that rental to ensure that the "nuclear football" is close by. That's the plan at least until September 2018, when the $2.39 million lease is up. So far, Trump has been reluctant to bring the chaos that surrounds him to Trump Tower, saying that he's hesitant to inconvenience New Yorkers. Any prolonged stay at Trump Tower would also draw protests, which are known to make Trump uncomfortable.
With Trump, it's always worth asking if he's benefiting from a deal like this. The Pentagon says no. In March, before the lease was finalized, DoD official James MacStravic wrote a letter to Democratic Representative Jackie Speier, assuring her that Trump isn't making money on this deal.
"To alleviate your principal concern (i.e. that the president of the United States might financially benefit from the lease effort), please know that this residential space is privately owned and that lease negotiations have been with the owner's representatives only," he wrote. "We are not aware of any means through which the president would personally benefit from a government lease of this space."