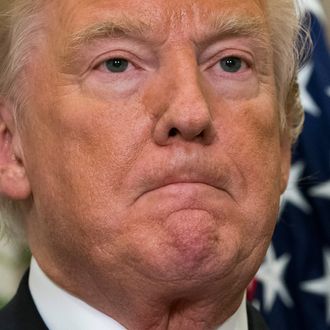 Donald Trump.
Photo: Saul Loeb/AFP/Getty Images
Do you remember what you were doing at 8:55 this morning? On the East Coast, you might have been driving to your job; maybe you were already there, settling in at your desk with a hot cup of java. On the West Coast, you were probably asleep.
But if you were at the Pentagon, maybe you were preparing to launch a nuclear attack on a foreign power. And maybe the situation was slightly surreal because it all happened in a nine-minute gap between two tweets from our lumpen president, Donald J. Trump.
Can you see how this post might be menacing?
It turned out that the disallowed thing was transgender members of the military, but Trump spent nine minutes trying to put together a sentence conveying as much. He finally followed up at 9:04. In the meantime, according to BuzzFeed:
At the Pentagon, the first of the three tweets raised fears that the president was getting ready to announce strikes on North Korea or some other military action. Many said they were left in suspense for nine minutes, the time between the first and second tweet. Only after the second tweet did military officials receive the news the president was announcing a personnel change on Twitter.
I'm starting to think that our president doesn't always fully consider the consequences of his actions …