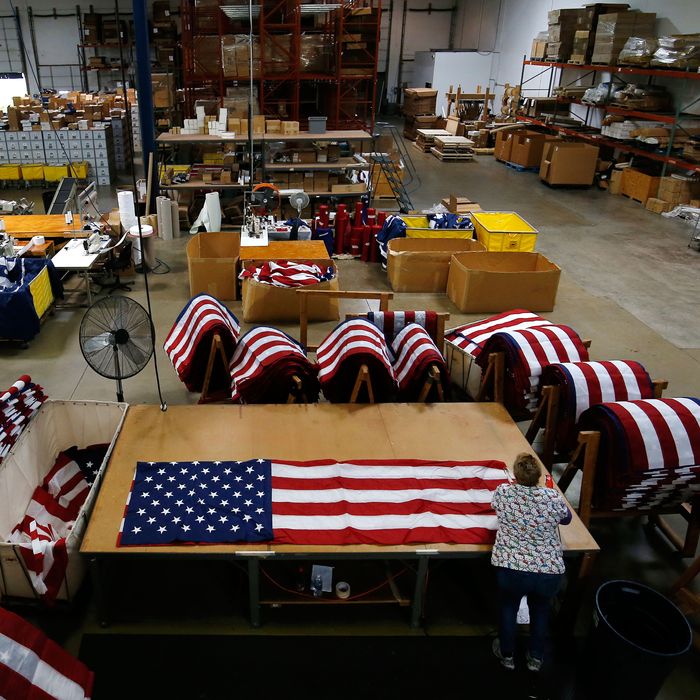 Under Trump as under Obama, the U.S. economy is bumping along at a steady pace, as evidenced by the June jobs report.
Photo: Jim Young/Bloomberg via Getty Images
The official jobs report for June was quite solid, with net job growth of 222,000 (against a consensus expectation of 178,000) and an upward revision by 47,000 of the jobs numbers for April and May. Wages were flat, as was the workforce participation rate and the official unemployment rate, of 4.4 percent.
The most immediate impact of the report will probably be to reinforce the Fed's determination to keep gradually increasing interest rates, even though the stagnant wage numbers would indicate the economy has not fully taken up all the slack in labor markets. But all in all, this is a status quo jobs report, much like the ones we have been seeing for, well, years.
That will not keep Trump fans — for instance, Matt Drudge — from crediting their guy:
As the Washington Post notes today, jobs growth is still well below the president's targets, assuming he was serious in promising 25 million new jobs over the next decade. More to the point, he hasn't been in office long enough to shape the economy, and hasn't actually enacted the fiscal policies that had some investor types excited back in November:
Economists say the president has probably not been in office long enough to have much of an influence on the economy – and that the economy that Trump is now presiding over looks nearly identical to that at the end of the Obama administration.




Trump's election fueled hopes of tax cuts, infrastructure spending, and other policies that would support business. But while the administration has moved quickly to dismantle regulations, legislative efforts that would alter taxes and spending have proved far more difficult, as divisions within Congressional Republicans have bogged down healthcare reform. Many business leaders are still hoping for tax reform before the end of the year, but they privately say the window is closing.
Over time, presidents get the credit or the blame for economic conditions whether or not they had much to do with producing them. But for the present, it does not appear the economy cares who is in the Oval Office.