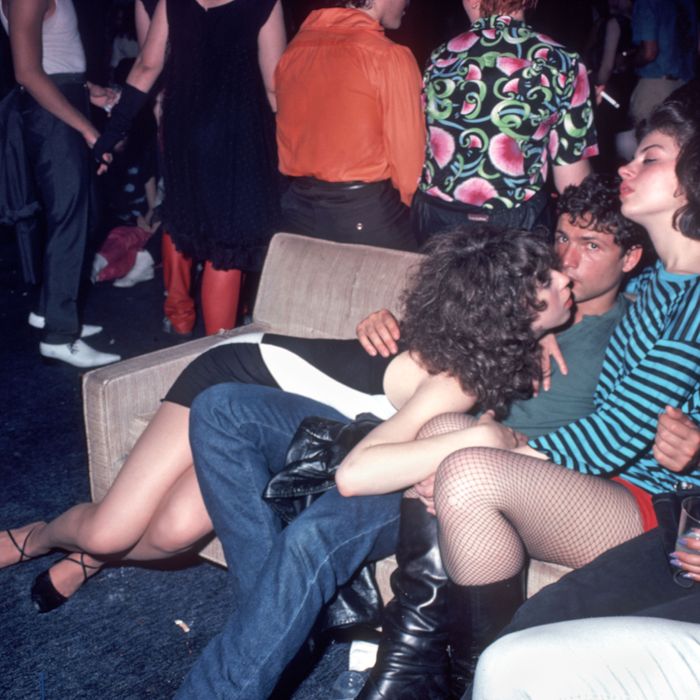 Party time at Danceteria, New York, New York, June 21, 1980. (Photo by Allan Tannenbaum/Getty Images)
Photo: Allan Tannenbaum/Getty Images
Crews working in Flatiron uncovered what looked like a World War II–era missile Wednesday afternoon. The discovery of this actually suspicious-looking package forced some buildings to evacuate and temporarily shut down 21st Street between Fifth and Sixth Avenues as police investigated.
The bomb squad gave the all-clear after checking out the item, which police officials said was filled with papers and is just a time capsule.
But it also really is a World War II green-painted bomb (or practice bomb) that John Argento bought from the Army-Navy store on Canal Street, and which he hung from the ceiling of the famous Danceteria nightclub on West 21st Street. Argento owned the club in the 1980s, and he and his partner, Rudolf, came up with the idea to turn the bomb shell into a time capsule. They took their inspiration from the Westinghouse attraction at the World's Fair. "It was a great excuse to have two great parties," Argento told Daily Intelligencer. "We can have a party when we will fill it, and we can have a second party when we solemnly lower it into the ground."
Argento says they did just that: threw a party, setting up the capsule on the lounge floor. Clubgoers — the artists, musicians, trendsetters, creatives, and everyone else who flocked to the legendary spot — were encouraged to add letters or photographs to people 10,000 years into the future. "It was tongue-in-cheek," Argento jokes.
They buried that capsule in a gravel lot where Argento used to park his car. That was in 1984. And then, "we forget about it," Argento said. At reunions, sometimes old Danceteria alum would bring it up and ask about digging it up. Argento, who now is the managing director of Zeppelin Hall and Surf City in Jersey City, tried check on the capsule about ten years ago, but he says a concrete pad had been installed to accommodate a big air-conditioning unit in the spot where the capsule was supposed to be underground. So he forget about it again, until a lieutenant with the NYPD bomb squad called him on Wednesday afternoon. "I said, 'I'm on my way to 21st Street,'" Argento said he told the cop, who let him know everything was okay, but that water had seeped into the capsule, leaving the letters and photos meant for future New Yorkers soggy and damp and maybe lost to time after all.
This post has been updated with an interview with John Argento.