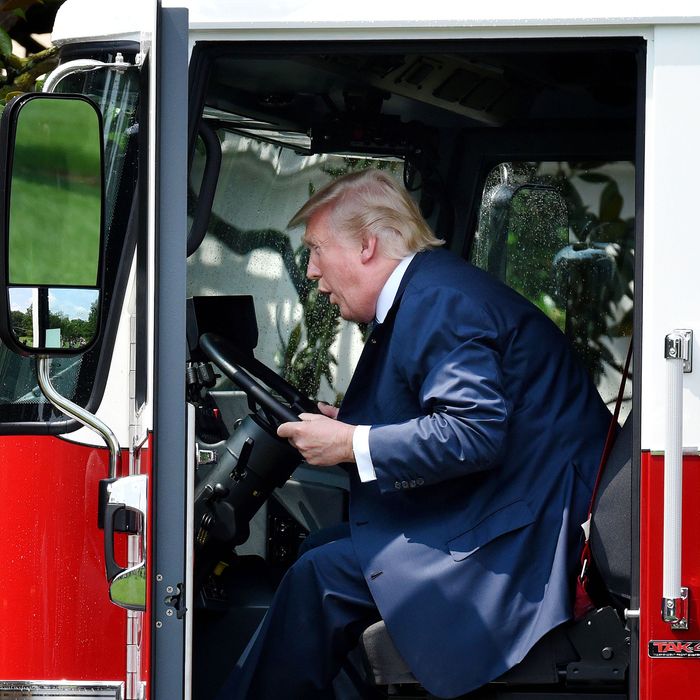 President Trump pretending to drive a truck at the White House yesterday.
Photo: Olivier Douliery - Pool/AFP/Getty Images
President Trump has called his 2016 election victory, in which he eked out a narrow Electoral College advantage while losing the national vote by 3 million, "a massive landslide victory." Perhaps unsurprisingly, he is grading his performance in office by similarly lenient standards. Assessing the fate of the Republican plan to roll back Obamacare, which is now officially dead, Trump expresses pride in the fact that 48 Republican senators had not officially announced their opposition as of last night. Not bad!
The "by any standard" is what makes this statement so remarkable. A normal standard would count the entire Senate, as opposed to only the members of one's own party. Trump had the good fortune to enjoy a Senate map that has ten Democratic senators in states he won facing reelection next year, and he managed to tempt or persuade zero of them to support this, or any other of his legislative initiatives to date. What's more, several of the 48 not-yet-opposed Republican senators were just waiting for other Republicans to go first.
When Barack Obama faced total opposition from the Republican Party during the health-care fight, despite months of wooing them and asking what they would need to support reform, he managed to get 60 out of 60 Democrats to vote yes.
Trump is definitely succeeding by some measures. His continued attacks on Hillary Clinton, while failing to result so far in the promised imprisonment, have left his vanquished opponent with abysmal polling. This would absolutely count as a vital accomplishment if only he and Hillary Clinton were still engaged in a zero-sum popularity contest. Trump has also probably accomplished more pretend truck-driving than any of his predecessors. Alas, the legislation-related parts of the job are not, historically speaking, going very well so far.