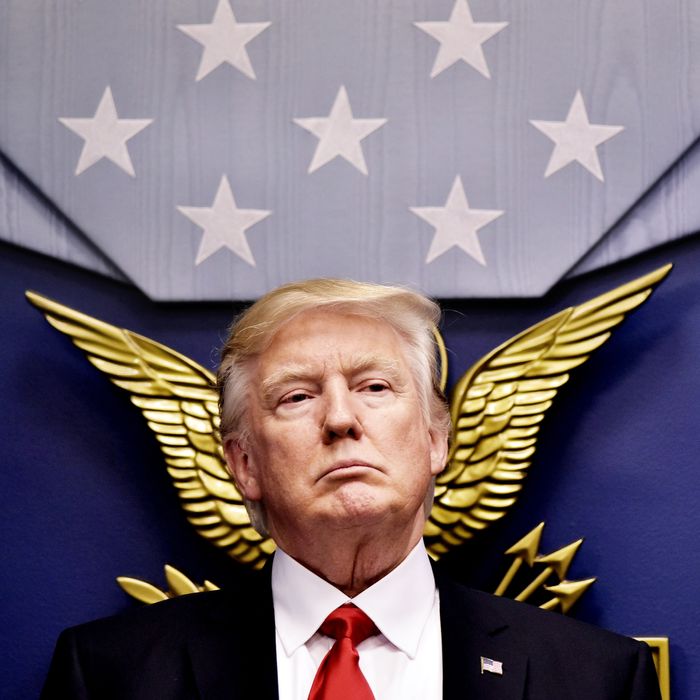 Trump.
Photo: Mandel Ngan/AFP/Getty Images
President Trump tweeted Wednesday that transgender people will not be allowed to serve in the U.S. military "in any capacity."
What a difference a year makes.
There are already between 15,000 and 4,000 trans troops in the military —the estimates vary wildly, and perhaps for good reason. Until June 30, 2016, trans troops were forced to hide their gender identity. When former Defense Secretary Ash Carter changed that policy, he also barred the discharge of troops "just for being transgender."
Carter also called for allowing "transgender individuals to join the armed forces, assuming they meet accession standards." That was supposed to happen by July 1 of this year. But on the last day of June, Defense Secretary Jim Mattis announced a six-month delay to allow the services to assess the impact openly trans troops would have on "the readiness and lethality of our forces."
The House has also taken up the issue this summer, with a focus on whether the Pentagon should pay for troops to transition. Earlier this month, the House defeated a proposal that would have banned it by a 209–214 vote, with 24 Republicans voting against the ban.
But even with the GOP helping to defeat that proposal, there have been signs that it may return. Foreign Policy reported Tuesday that Vice-President Mike Pence is pushing members of Congress to take up a new version of the ban.
It should be noted that this announcement barring transgender people from volunteering to serve the U.S. comes from Trump, who received multiple deferments to avoid military service, at the start of the White House's "American Heroes Week."