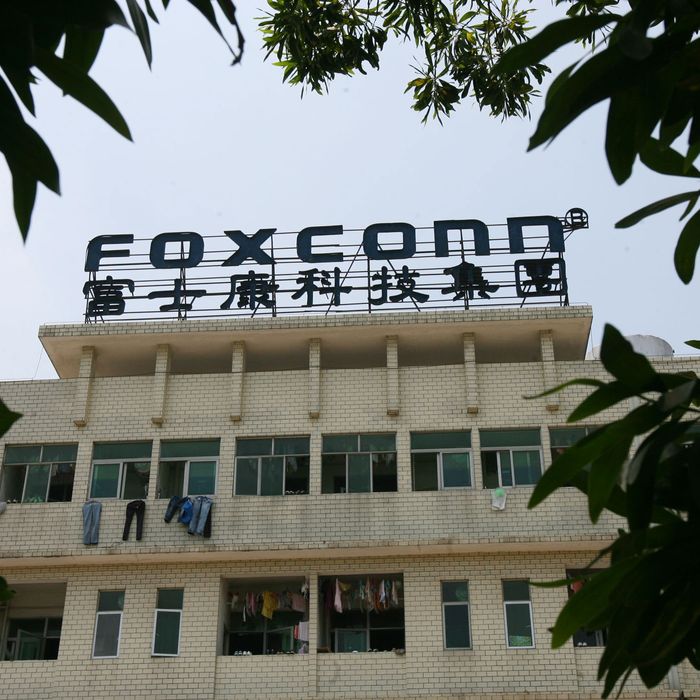 A Foxconn factory in China.
Photo: ChinaFotoPress/VCG via Getty Images
Taiwanese electronics giant Foxconn will build a new $10 billion plant in Wisconsin, bringing at least 3,000 jobs to the district of House Speaker Paul Ryan, the White House announced Wednesday.
Largely known for building iPhone parts, Foxconn will manufacture flat-panel display screens at the Wisconsin plant, which will have the potential to employee 13,000 people after the initial 3,000, a White House official told reporters. It should be completed by 2020, said Wisconsin governor Scott Walker, who called it "the single largest economic development project in the history of Wisconsin."
The White House played up President's Trump role in the negotiations to bring the factory to the U.S., but said he did not steer chairman Terry Gou, with whom Trump met personally, toward Wisconsin. "If I didn't get elected, he definitely would not be spending $10 billion," Trump said.
At 20 million square feet, the factory would be one of the largest in the nation, according to the Milwaukee Journal Sentinel. It would also require "$1 billion to $3 billion in local, state and federal incentives" the paper reports.