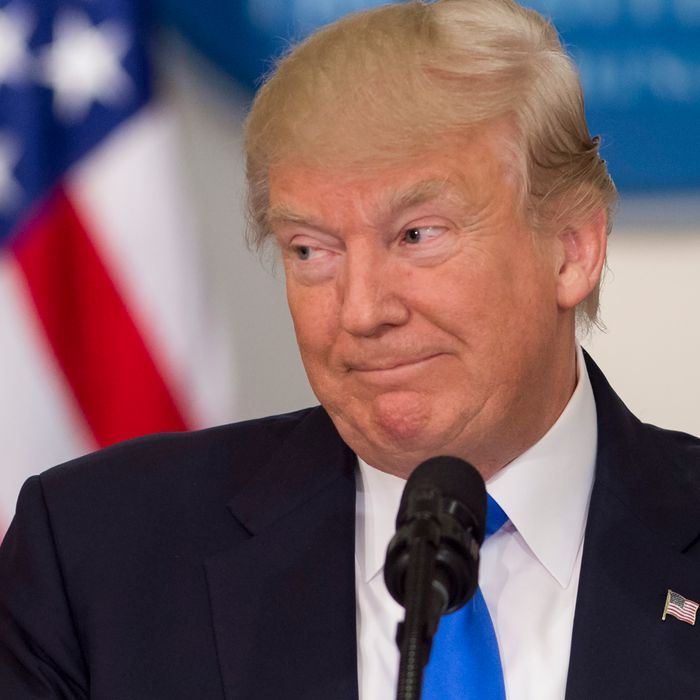 President Donald "Does What He Wants" Trump.
Photo: Saul Loeb/AFP/Getty Images
President Trump unleashed a maelstrom of feisty tweets early Saturday morning, playing some old hits (Hillary Clinton's emails, the stalled effort to repeal Obamacare) and cranking out a few new tunes (the New York Times' culpability in the survival of ISIS leader Abu Bakr al-Baghdadi?). He also appeared to confirm the accuracy of a Friday night Washington Post report that Jeff Sessions lied about the nature of his conversations with the Russian ambassador to the U.S.
But the most newsworthy of Trump's indignant proclamations was his assertion that he has the "complete power" to pardon himself, should the need ever arise. (You know, totally standard stuff at the six-month mark of a presidency.)
That tweet came in the context of other complaints about the scope of the investigation into Trump and Russian electoral interference headed by special prosecutor Robert Mueller, a frequent target of Trump's ire.
It's part of a broader effort by Trump and his team to disrupt and discredit Mueller and his associates — and, if that fails, to lay the groundwork for self-acquittal. One source told the Post this week that the president "has asked his advisers about his power to pardon aides, family members and even himself in connection with the probe," and another person said that "Trump's lawyers have been discussing the president's pardoning powers among themselves."
Of course, Trump may fire Mueller before such powers need to be put to the test. In a New York Times interview on Wednesday, Trump warned Mueller not to overstep his investigative boundaries by poking into Trump's byzantine business transactions. The next day, Bloomberg reported Mueller was doing just that.
The possibility of an imminent clash between Trump and Mueller — with all its damaging and unknown consequences — seems more likely now than ever.