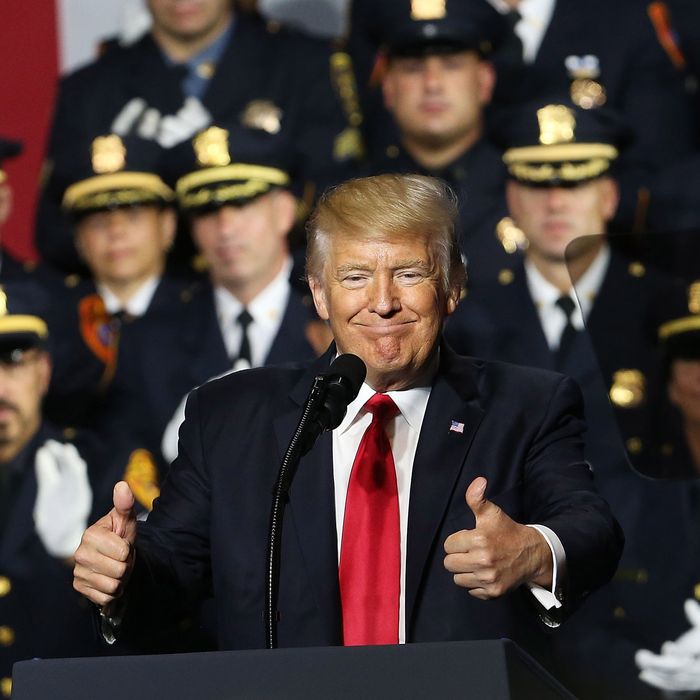 Thumbs-up to head-bashing.
Photo: Spencer Platt/Getty Images
President Trump on Friday encouraged police officers to be more violent when making arrests, telling them to be "rough" on suspects when tossing them into "paddy wagons."
"Please do not be too nice," he said to a crowd of police officers, who interrupted his remarks to applaud.
The comment came during a speech about gang violence that was peppered with the grotesque imagery Trump favors when he talks about immigrants.
"They kidnap. They extort. They rape, and they rob," he said. "They stomp on their victims. They beat them with clubs, they slash them with machetes, and they stab them with knives. They have transformed peaceful parks and beautiful, quiet neighborhoods into bloodstained killing fields. They're animals."
But it was the comments endorsing police brutality that stood out most during the speech in Suffolk County, where the former police chief is serving a 46-month jail sentence after brutally beating a man who stole a duffel bag full of porn and sex toys from his car.
While Trump hasn't explicitly endorsed this roughing up of suspects in the past, at least not as president, his comments Friday are pretty well in line with how he thinks police should behave. This is the same guy who still believes the Central Park Five are guilty, despite their exoneration. In the aftermath of that infamous attack, he took out a full-page ad in the Times, arguing that criminals should be "forced to suffer."
"Let our politicians give back out police department's power to keep us safe," he wrote. "Unshackle them from the constant chant of 'police brutality,' which every petty criminal hurls immediately at an officer who has just risked his or her life to save another's."
The idea that police could be more effective by being more brutal has stuck with Trump. During last year's campaign, he told Bill O'Reilly that an unnamed Chicago police officer convinced him the city's crime problem could be solved in one week. How? By using "tough police tactics."