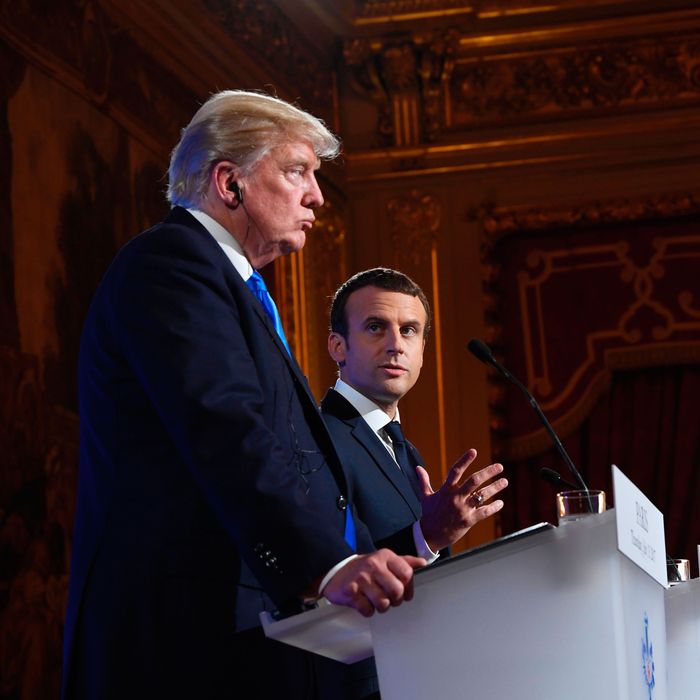 Macron and Trump.
Photo: Saul Loeb/AFP/Getty Images
French president Emmanuel Macron hosted Donald Trump in Paris, and even though "Jim" won't visit anymore, the draw of a military parade helped convince the American president to make the trip. Macron is rolling out the red carpet for Trump ahead of the Bastille Day celebrations, which are honoring the 100th anniversary of the U.S. entering World War I. Besides the parade, the two leaders and their wives toured Napoleon Bonaparte's tomb, and will dine in the Eiffel Tower Thursday night. But before their lobster, the men had to get through their press conference — where the subject of Donald Trump Jr. was almost guaranteed to come up.
And the question did come, courtesy of ABC News' Cecilia Vega, who referenced Trump's FBI nominee Christopher Wray, who testified before the Senate on Wednesday that any threat to interfere in the elections would warrant a call to the FBI. Trump defended his son in response — and Don Jr.'s decision to take the meeting with a Kremlin-linked lawyer to get damaging information on Hillary Clinton. "As far as my son is concerned, he's a wonderful young man," Trump said. "He took a meeting with a Russian lawyer — not a government lawyer, but a Russian lawyer. It was a short meeting. It was a meeting that went very, very quickly."
"I do think this, from a practical standpoint, most people would have taken that meeting," Trump added. "It's called opposition research."
"In the case of Don, as I see it, they talked about adoption and some things. Adoption wasn't even part of the campaign. But nothing happened from the meeting. Zero happened from the meeting," he explained. Trump accused the press of making too big a deal over something that "really a lot of people would do," and seemed to blame the Obama administration for letting the lawyer, Natalia Veselnitskaya, into the United States in the first place. Trump summed up with one last defense of his son: "He took a meeting with a lawyer from Russia, it lasted for a very short period and nothing came of the meeting," he said. "I think it's a meeting that most people in politics probably would have taken."
Trump's long-winded defense of Don Jr. punctuated a somewhat stilted press conference between two leaders who are trying to move past a somewhat rough start and who are looking for commonality on issues, including Syria and terrorism. The two presidents both spoke warmly of the long-standing partnership between the two countries, which may or may not be news to some people.
Macron acknowledged the disagreement between the two leaders on climate change, and their divergent stances on the Paris accord. He said it wouldn't affect his ability to work with the United States on other issues. He reiterated that he was committed to the framework of the Paris agreement, but described a"willingness" to keep working with Trump on the issue. He added, "So today there is nothing new or unprecedented, otherwise we would have told you about it. But I believe there is a joint willingness to continue talking about this and try to find the best possible agreement."
Trump delivered a more cryptic response. "Yeah, I mean something could happen with respect to the Paris accord. We'll see what happens," Trump said. "If it happens that will be wonderful, if it doesn't that will be okay, too."
But the meeting does seem to have swayed Trump's opinion on the City of Light, at least based on his response to a reporter who asked about Trump's past criticism of Paris. "That's a beauty," Trump joked about the question, before praising Macron. "You have a great leader now, you have a tough president," Trump said. "He's not going to be easy on people who are breaking the laws and people who show this tremendous violence. So I really have a feeling that you're going to have a very, very peaceful and beautiful Paris."
"And I'm coming back," Trump ribbed, turning to Macron. "You better do a good job, or you're going to make me look very bad."
Yet Macron and Trump at least made a show of moving past handshake mishaps. "This evening at the Eiffel Tower," Macron said, "it will be a dinner between friends."
Trump agreed. "We have a very good relationship, a good friendship, and we look forward to dinner tonight at the Eiffel Tower," he said. "That will be something special."