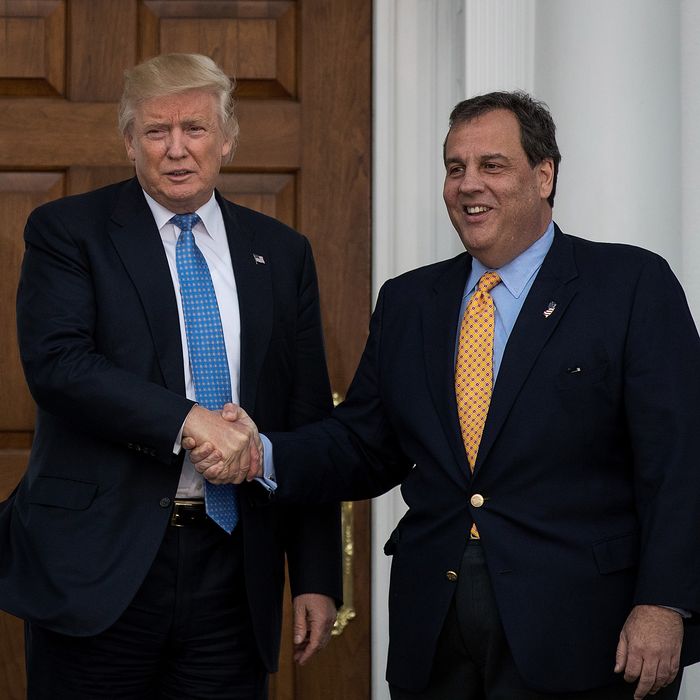 Trump, moments before dousing himself in Purell.
Photo: Drew Angerer/Getty Images
Many reasons have been offered for why Chris Christie was abruptly fired from the Trump team, ranging from the Bridgegate scandal to the governor's attempts position himself in front of the cameras on Election Night. The new book Devil's Bargain by Bloomberg Businessweek reporter Joshua Green reports that President Trump's alleged germophobia may have also played a role. According to The Daily Mail, the incident occurred on Election Night, when Christie sat down next to Trump as he was trying to absorb the news of his shocking win:
Christie said: 'Hey Donald. The President talked to me earlier' — the two had gotten to know each other after Superstorm Sandy. Christie said: 'If you win he's going to call my phone, and I'll pass it over to you'.




Trump 'flashed a look of annoyance, clearly resenting the intrusion' and was repulsed by the idea of having somebody else's phone next to his face.




Trump told Christie: 'Hey Chris, you know my f***ing phone number. Just give it to the President. I don't want your f***ing phone'.




Aides said that Christie's move was the 'ultimate mistake' and one from which he 'wouldn't recover'.
It's a bit hard to believe that the phone incident, and not putting Jared Kushner's dad in jail, is what ultimately cost Christie his job in the Trump administration.
The Christie camp is already denying the story. "The account in the book is complete fiction," Christie spokesman Brian Murray told the Daily Beast. "Governor Christie never spoke to President Obama on election night nor did he make any arrangements for any phone call from The White House to be placed on his cell phone for the President-elect. Finally, he had no conversation on election night as was relayed in this book with the President-elect. The author should be ashamed of himself in passing off this account as true — it is fiction."
Whatever the root of their conflict, eventually Christie and Trump patched things up — at least enough that Trump was willing to invite the governor to the White House and order him to eat meatloaf.