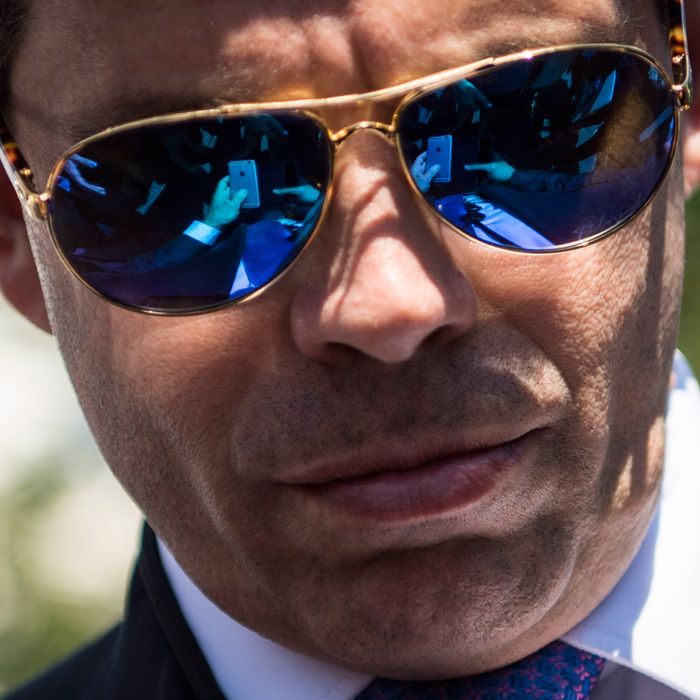 The Mooch is loose.
Photo: Jabin Botsford/The Washington Post/Getty Images
Ten days after beginning as White House communications director, the epochal reign of former hedge-fund boss and foul-mouthed New Yorker Anthony Scaramucci is over, the New York Times reports.
Scaramucci's firing is the first major move by new White House Chief of Staff John Kelly, the former general who was tasked with implementing order in the chaotic West Wing. The Times said Kelly wanted Scaramucci gone and "made clear to members of the White House staff at a meeting Monday morning that he is in charge." Politico confirms that it was Kelly who ultimately ousted Scaramucci, whose brief tenure in the White House led to the departures of former press secretary Sean Spicer and former chief of staff Reince Priebus.
"Anthony Scaramucci will be leaving his role as White House Communications Director," the White House said in a statement that made it sound as if the man who calls himself "the Mooch" left voluntarily. "Mr. Scaramucci felt it was best to give Chief of Staff John Kelly a clean slate and the ability to build his own team. We wish him all the best."
The decision is not too surprising. Kelly arrives at the White House with broad power over personnel — even Steve Bannon, Jared Kushner, and Ivanka Trump will report to him, Press Secretary Sarah Huckabee Sanders said Monday. In contrast, before he was fired Scaramucci continued to insist that he reported directly to President Trump. Scaramucci's now-infamous interview with The New Yorker also played a role in his departure. Kelly was "dismayed" by the interview and "found it abhorrent and embarrassing" for Trump, the Washington Post reports. The president, who initially liked what he read, eventually decided that he's the only one in the White House who should speak like a drunken sailor.
The Post adds that some in the White House saw Scaramucci's arrival as a good thing because it could accelerate Preibus's departure. With his firing last week, Scaramucci's "usefulness had declined significantly," the paper says. Axios reporter Jonathan Swan supported that theory.
Despite his firing, Scaramucci is expected to keep his position at the Export-Import Bank, The Wall Street Journal reports. He began a top position at the agency in June. That's a small consolation prize for a turbulent week that saw him get and lose a job in the White House; have his marriage end; and endure an erroneous death notice in the Harvard Law alumni directory.
A bad day for Scaramucci means a good one for former press secretary Sean Spicer, who resigned when Scaramucci was hired. Spicer hadn't yet officially left the White House, and now that his nemesis is gone, there's speculation that Spicer might return. Asked about the possibility by reporters Monday, all he could do was smile.
And so the White House carousel whirls round and round.