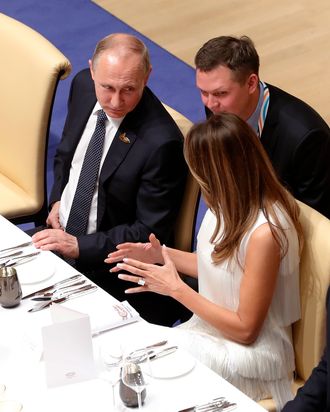 Vladimir Putin talks with Melania Trump, before her husband cut in.
Photo: Pool/Getty Images
One weird element of the Russia scandal is that President Trump doesn't seem to care about disproving the idea that he's too close to Russian president Vladimir Putin. While he once passionately insisted he's "no puppet," now his administration will unabashedly mull returning seized Russian compounds in the U.S., and float the idea of a joint U.S.-Russia cybersecurity unit to prevent election hacking.
The latest example is Trump's decision to have a long private chat with Putin in view of many other world leaders. We learned Tuesday that after his first meeting with Putin, which took place at the G-20 summit in Germany on July 7, Trump approached Putin again during a dinner.
The first meeting lasted two hours and 45 minutes and was attended by Secretary of State Rex Tillerson, Russian Foreign Minister Sergei Lavrov, and two interpreters. Trump asked Putin if he meddled in the U.S. election (Putin said no) and they agreed to a cease-fire in Syria. The second talk reportedly lasted nearly an hour, but we don't know what was discussed because the only people involved were Trump, Putin, and Putin's interpreter.
The chat occurred at a private dinner for G20 leaders and their spouses, which the press was not allowed to attend. The New York Times reports that more than halfway through the three-hour event, Trump left his chair and approached Putin, who was seated next to Melania Trump. Other leaders watched their animated conversation, but couldn't hear what they were saying. Trump and Putin were among the last to leave. According to pool reporters, Putin's motorcade left at 11:50 p.m., and Trump's departed at 11:54 p.m.
Ian Bremmer, president of the Eurasia Group, a New York–based research and consulting firm, broke the news of the second Trump-Putin meeting, which he said he heard about directly from people attending the dinner.
"Pretty much everyone at the dinner thought this was really weird, that here is the president of the United States, who clearly wants to display that he has a better relationship personally with President Putin than any of us, or simply doesn't care," Bremmer said. "They were flummoxed, they were confused and they were startled."
The White House released a statement rejecting the idea that Putin and Trump's interaction constituted an undisclosed second meeting. They said that during the meal "all the leaders circulated throughout the room and spoke with one another freely," and suggested Trump only "spoke briefly" with Putin. They said they used Putin's translator because each couple was only allowed one translator, and the president chose a Japanese speaker because Trump was seated next to the wife of Japanese prime minister Shinzo Abe.
The president attacked the press explicitly:
Why does the press think the American people need to know about every 55-minute chat between the president and a foreign leader who tried to hack our election?