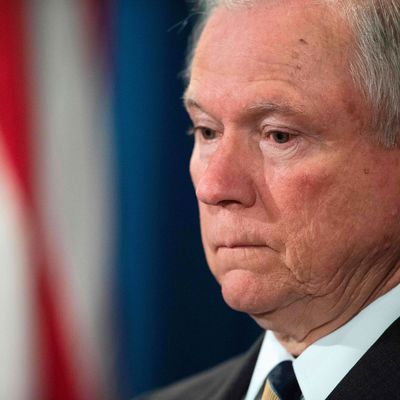 Sessions.
Photo: Jim Watson/AFP/Getty Images
President Trump has been unhappy with Jeff Sessions since March, when the attorney general recused himself from the ongoing investigation into Russian election interference, paving the way for Robert Mueller, Trump's new bête noire, to take over as special prosecutor.
On Monday morning, Trump expressed his discontent once again, calling out Sessions as "beleaguered" in a tweet, and questioning why he isn't doing more to investigate – you guessed it – Hillary Clinton.
It's easy to see Trump's not-so-subtle jabs at Sessions as a campaign to get the attorney general to quit rather than to have to take matters into his own hands. As Axios's Jonathan Swan noted on Sunday, "If we've learned anything so far about this President, it's that in real life he actually hates saying 'you're fired.'" So far, Sessions seems unwilling to step aside, though he did reportedly offer his resignation after recusing himself.
Trump's animus toward Sessions is particularly striking considering that the ex–Alabama senator was one of the earliest and most influential of the president's backers, risking his career by becoming the first sitting senator to endorse Trump. His radical positions on immigration and law enforcement also align closely with Trump's.
In policy terms, Sessions has been one of the most aggressive of Trump's cabinet picks, bringing to the federal level his signature severe approach to the war on drugs and other issues. Last week, he announced a federal directive endorsing the highly controversial practice of asset forfeiture; this week, the Department of Justice is expected to announce a much stricter approach toward the buying and selling of marijuana.
Trump cares less about ideology and more about blind loyalty. But if Sessions goes, who would replace him? Could it be Attorney General Rudy Giuliani? Much stranger things have happened.