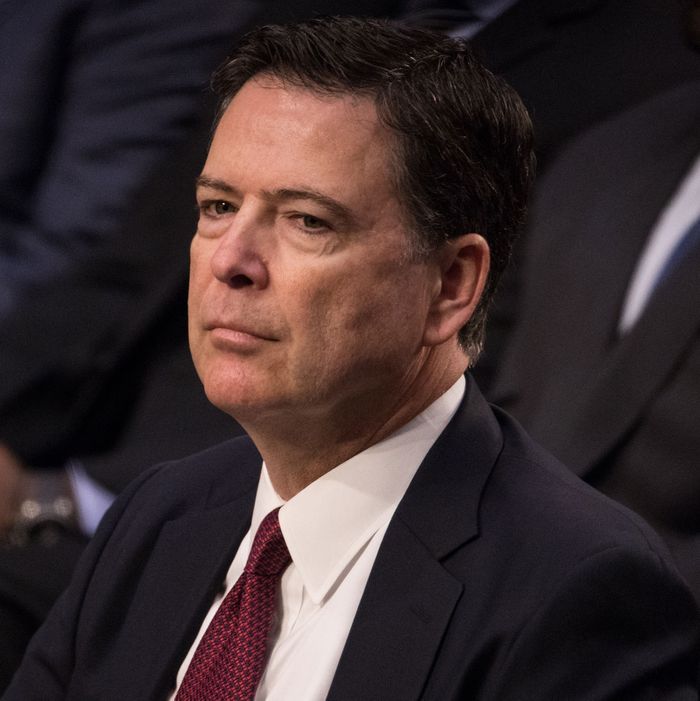 Rogue agent?
Photo: Cheriss May/NurPhoto via Getty Images
The president began his Monday by scrutinizing his national security briefing, filling its margins with perspicuous questions and observations. Then, humbled by the awesome weight of his responsibilities, the commander-in-chief silently recited the Serenity Prayer before turning his thoughts to domestic legislation.
Just kidding: Trump started his week by live-tweeting Fox & Friends.
The president kicked things off by making a criminal accusation against his former FBI director.
This declaration was triggered by a Fox News segment that the president had retweeted moments before. But Trump's charge is backed up by more than just the idle ravings of heavily made-up reactionaries: The Fox report was based on this dispatch from conservative journalist John Solomon in the Hill:
More than half of the memos former FBI chief James Comey wrote as personal recollections of his conversations with President Trump about the Russia investigation have been determined to contain classified information, according to interviews with officials familiar with the documents.




This revelation raises the possibility that Comey broke his own agency's rules and ignored the same security protocol that he publicly criticized Hillary Clinton for in the waning days of the 2016 presidential election.
Comey's recollections of his conversations with the president are neither inherently privileged nor classified. Had the former FBI director merely paraphrased the key memos to friends or reporters, there would be little question as to the legality of his actions. But since the memos were, ostensibly, made in his capacity as an FBI official, they could be considered government documents — in which case, he would have lacked authority to share them with the media, as he admitted to doing during his Senate testimony.
In the Hill's account, the FBI has deemed all of the memos government documents. More significant, the outlet writes that "four of the memos had markings making clear they contained information classified at the 'secret' or 'confidential' level."
If that's all true (a big if), then it would be fair to say that Comey was bizarrely sloppy in how he chose to go public. Still, it's difficult to see how the former FBI director's flouting of bureaucratic protocol is anywhere near as concerning as the president's concerted efforts to compromise the independence of federal law enforcement.
Next, Trump turned his attention to his party's stalled health-care bill.
Here, the president seems to be demanding that Republicans pass Obamacare repeal — or work through their August recess trying.
There are many ways that Trump could play a constructive role in helping his party pass health-care reform. For one, he could study up on health-care policy, learn what is actually in his own bill, and then use the bully pulpit to make a substantive case about how it would improve on the status quo. For another, he could suggest changes to make the bill better conform to his campaign promises to achieve universal coverage, protect Medicaid, and lower costs.
Or he could say that the bill he begged the House to pass is "mean"; disrupt negotiations by reviving long-dormant legislative strategies; and then post passive-aggressive tweets demanding the passage of a bill he can't understand, let alone defend.
All equally valid strategies.
Finally, the president turned his thoughts to what really matters: the media's outrageous affection for Chelsea Clinton.
Here, Trump is referencing the outrage his daughter generated by sitting in for her father at the G20 leaders' table, days after the White House adviser told Fox News that she tries "to stay out of politics." One flaw in the president's argument is that the mainstream media has a healthy (or, perhaps, unhealthy) appetite for Clinton-family pseudo-scandals. Another is that his tweet implies that he "gave our country away."
Notably, while the president went out of his way to defend his favorite daughter, he declined to put in a good word for his embattled namesake. On Sunday, the New York Times revealed that Donald Trump Jr., Jared Kushner, and Paul Manafort took a meeting with a Kremlin-aligned lawyer last summer, with the understanding that she would provide negative information about Hillary Clinton. In Don Jr.'s own telling, the lawyer's apparent motivation was to urge the Republican nominee to lift the sanctions imposed on Russian officials by the 2012 Magnitsky Act.
On Monday morning, Junior took his case to Twitter.
Like the intrepid businessman's past defenses, this argument could ostensibly constitute a criminal confession.