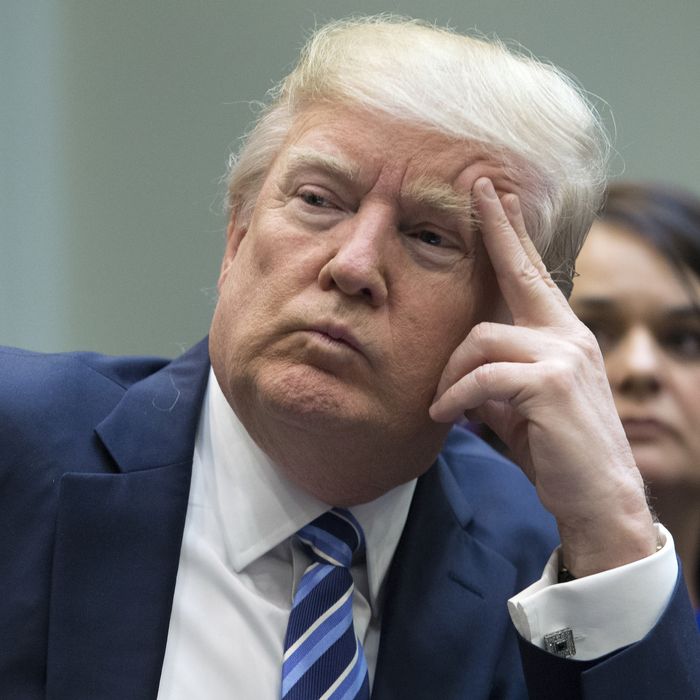 Candidate Trump said he'd tear up the deal and "double and triple up sanctions."
Photo: Bloomberg/Bloomberg via Getty Images
Reaching a deal to curb Iran's nuclear program involved 20 months of negotiations between seven countries. Now its fate will be determined by ongoing negotiations between President Trump and his own national security advisers.
The Trump administration announced on Monday that it will recertify that Iran is complying with the terms of the 2015 nuclear deal. Under the agreement, the State Department must update Congress on Iran's compliance every 90 days.
When the Trump administration first certified Iran's compliance in April, they registered their displeasure with the deal by noting that it "remains a leading state sponsor of terror, through many platforms and methods." Secretary of State Rex Tillerson also said President Trump had directed the National Security Council to lead a review of the deal.
As Politico noted, on Monday, the Trump administration repeated this pattern of putting pressure on Iran "even when acknowledging that Iran is doing something that it wants." While announcing the recertification, senior administration officials bashed the deal and said they intend to apply new sanctions on Iran for its non-nuclear activities, such as its alleged interference with neighboring countries and human-rights abuses.
But the New York Times reported that this predictable move came after hours of arguing between President Trump and his aides, who want to keep the deal in place:
At an hourlong meeting last Wednesday, all of the president's major security advisers recommended he preserve the Iran deal for now. Among those who spoke out were Secretary of State Rex W. Tillerson; Defense Secretary Jim Mattis; Lt. Gen. H. R. McMaster, the national security adviser; and Gen. Joseph F. Dunford Jr., the chairman of the Joint Chiefs of Staff, according to an official who described internal discussions on the condition of anonymity. The official said Mr. Trump had spent 55 minutes of the meeting telling them he did not want to.
Apparently Trump, who repeatedly vowed to rip up the deal and increase sanctions on Iran during the campaign, only went along with certifying Iran's compliance in April because his team said they'd come up with a new plan to confront Tehran. Last week, his advisers told him they'd need more time, and Trump said they'd need to meet "certain conditions" before he agreed to the latest recertification.
It's not clear what those conditions were, but Trump's advisers got to work. The Times reports he wasn't happy with what they came up with:
While Mr. Trump headed to Paris and then spent the weekend in New Jersey, his team developed a strategy that it hoped would satisfy him and planned to notify Congress and make the case publicly on Monday. But even as allies were quietly being informed, Mr. Trump balked when he heard the plan at his morning security briefing, the official said. The argument continued during a separate meeting with Mr. Tillerson as Mr. Trump pressed for more action, the official said.




Suddenly, a background briefing to announce the decision was postponed and Mr. Spicer was sent out to assure reporters that a decision would be coming "very shortly," while aides scrambled to satisfy Mr. Trump. He agreed only late in the day after a final meeting in the Oval Office, in effect telling his advisers that he was giving them another chance and this time they had to deliver. The announcement was then rescheduled for the early evening and a notice was sent to Congress to continue withholding nuclear-related sanctions against Iran.
Trump has told his team that he's not going to keep recertifing the Iran deal indefinitely, even if they're keeping up their end of the bargain. That doesn't give Iran much incentive to stay in the deal, but that may be part of the plan:
But some advisers to the president argue that if they can provoke Iran into being the one to scrap the nuclear deal, it will leave the United States in a stronger position.
Now the best hope for the Iran deal is that Trump's efforts to provoke Iran into breaking up with us will backfire in some George Costanza–esque twist.