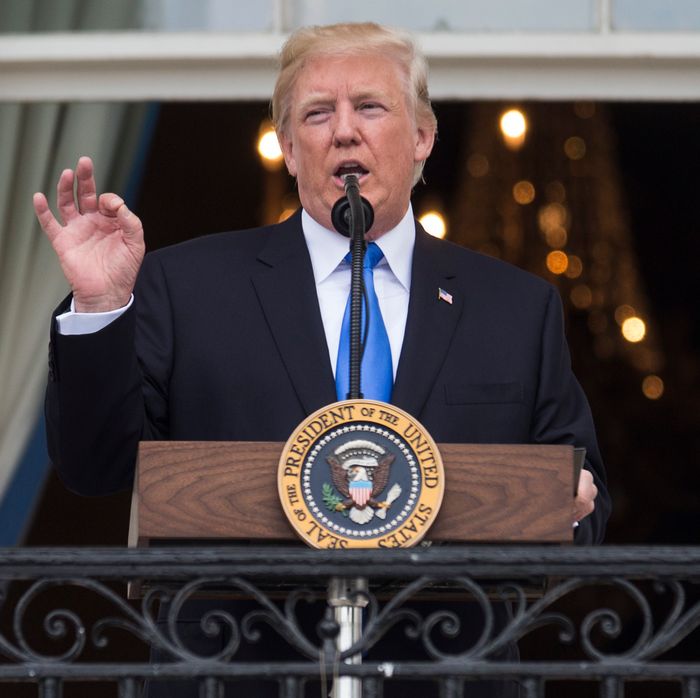 Too polite for his own good.
Photo: Zach Gibson/Getty Images
President Trump marked his first Independence Day at the White House by hosting a picnic for military families on the South Lawn. Trump was appropriate while addressing the crowd, pledging his "unwavering support" for military families and recognizing Vice-President Mike Pence's son, who is in the Marines. But he tried to be a bit too inoffensive, noting as he read his prepared remarks that he'd never heard the awkward term "second lady."
There is one military family here I am especially excited to recognize. Our great Vice-President Mike Pence and our second lady — never heard that term before but that's what they say, and she is some lady, that I can tell you — of the United States, Karen Pence, are here along with their son Maine First Lieutenant Michael Pence.
The term "first lady" wasn't coined until 1849, and a few decades later, Jennie Tuttle Hobart, the wife of President William McKinley's vice-president, Garret Hobart, referred to herself as the "second lady." Former Vice-President Joe Biden's wife was often called Dr. Jill Biden, but the term shouldn't be entirely unfamiliar to Trump. The White House website calls Karen Pence "Second Lady of the United States," and it's also her Twitter handle.