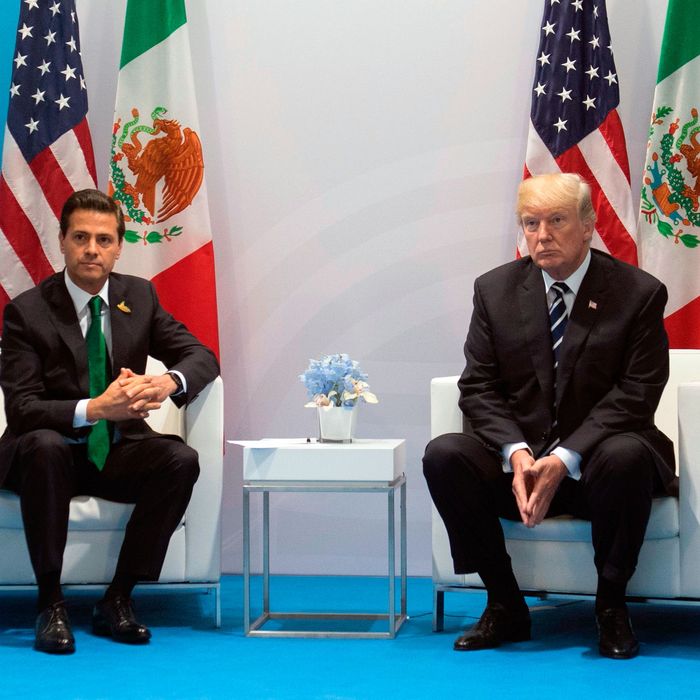 Trump with his "friend" Enrique Peña Nieto.
Photo: Saul Loeb/AFP/Getty Images
As President Trump and Mexican president Enrique Peña Nieto sat down for a meeting on the sidelines of today's G20 summit in Hamburg, Germany, reporters were allowed in the room to take pictures and shout questions.
"Mr. Trump, do you still want Mexico to pay for the wall?" one reporter asked Trump.
"Absolutely," he said before flashing a smile at Secretary of State Rex Tillerson.
Trump is practiced in the art of ignoring questions, so his willingness to answer this one with Peña Nieto sitting right next to him seems notable, particularly given the drama this issue has created.
It was the wall, and Trump's continued insistence that Mexico pay for it, that led Peña Nieto to cancel a planned meeting with Trump in January. They spoke on the phone instead.
"Mexico does not believe in walls. I've said time again; Mexico will not pay for any wall," Peña Nieto said at the time.
Before making things awkward with Peña Nieto over the border wall, Trump painted a rosy picture of the U.S.-Mexico relationship. He called the Mexican president a "friend," and said the two men have "made very good progress" in working together. Peña Nieto added that the meeting will help continue a "flowing dialogue" between the two nations.