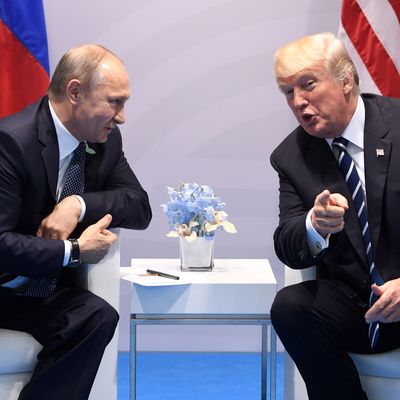 I can tell that we are going to be friends.
Photo: Saul Loeb/AFP/Getty Images
On Thursday afternoon, Donald Trump refused to concede that Russia tried to interfere in America's 2016 election, saying, "I think it could have been other people and other countries." On Friday morning, the president declined to publicly criticize Russian agents for hacking the Clinton campaign or Democratic National Committee — but did condemn Clinton campaign chairman John Podesta for refusing to hand over the DNC's email server to the CIA. (An allegation that is incoherent on myriad levels.)
And yet, when Trump met with Vladimir Putin at the G20 Friday afternoon, the first thing he did was express his concerns about Russian meddling in American elections. Or so Rex Tillerson said Friday, following a meeting that ran 90 minutes longer than expected. The secretary of State told reporters that the president opened his first face-to-face with his Russian counterpart "by raising the concerns of the American people regarding Russian interference in the 2016 election."
Tillerson said that the ensuing exchange was "robust and lengthy"; that Putin denied any involvement in Russian hacking; and that Trump made clear that "to move the U.S.-Russia relationship forward" the Kremlin would need to refrain from interfering in our democratic process, or that of any other country.
Russian foreign minister Sergey Lavrov, however, is saying that Trump "accepted" Putin's claim that Russia had no involvement in the hacking. What's more, according to The Guardian's Alec Luhn, Russian media is reporting that Trump assured Putin that many in the U.S. are "exaggerating" about the attack. That would be a bizarre thing for the president to say, most obviously because Putin is in a much better position to know whether Russia's activities are being exaggerated than Trump is.
Trump administration officials have disputed Lavrov's claim. One easy way for the president to clarify this matter would be to say, publicly, whether he has more faith in his own CIA director than in Vladimir Putin. As of this writing, he has declined to do so.
Regardless, Trump and Putin left their meeting with a tangible achievement — albeit one that appears to have been arranged in advance: an agreement between Russia, Israel, Jordan, and the U.S. on a cease-fire in southwest Syria, which is set to go into effect by noon on Sunday. As to the broader conflict, Tillerson said Friday that the two leaders discussed how to "deescalate the violence once we defeat ISIS and to work towards a political process that will secure the future of the Syrian people." The secretary of State stipulated that, in America's view, Assad and his family cannot retain power in Damascus in the long run. If Tillerson didn't mean that in the sense of "in the long run, we'll all be dead," then the remark would stand in tension with a recent report from the Daily Beast's Spencer Ackerman, which detailed the secretary's master plan for resolving the Syrian conflict:
After a dizzying series of policy shifts on Syria, administration and congressional sources tell The Daily Beast that Team Trump is introducing the beginnings of a new strategy for Syria—one that, in the short term at least:




• leaves dictator Bashar al-Assad in power;




• acquiesces to the idea of "safe zones" proposed by Russia and its allies;




• leans on cooperation from Moscow, including the use of Russian troops to patrol parts of the country.




… Expect Tillerson's plan to be discussed at Trump's meeting with Putin on Friday, when the secretary of state will be the only other American official in the room. After the confab, Tillerson will fly to Turkey, where the Syria plan is likely to be raised as well.
Appearing beside Putin ahead of their talks, Trump said that it was "an honor" to meet with the Russian leader, and predicted that "very positive things" would come out of their discussion.
Beyond Syria, the two leaders discussed the situation in Ukraine, counter-terrorism and "cyber crime," according to Russian state media. The meeting was scheduled to last a half-hour, but ran two hours and 15 minutes. Tillerson credited this fact to the extraordinary rapport between the two men.
There is little more to report on the tenor or details of the two leaders' discussions. In speculating about either, it's worth remembering:
Trump is a former reality star who has a hard time reading sentences that exceed 140 characters — and/or, that do not have his name in them. The president prefers to play high-level diplomatic meetings by ear; is infamously conflict-averse in face-to-face settings; and appears to value flattery and easily marketable "wins" above most any substantive policy goal. The last time he met with officials from the Kremlin, he provided them with unsolicited, highly classified Israeli intelligence that the United States had no permission to share.
Putin, by contrast, is a former KGB agent with decades of experience in manipulating whoever is seated across from him. The Russian president is said to prepare meticulously for his meetings with other heads of state, entering with a list of concessions to extract — and a sense of his counterpart's psychological liabilities. This is the man who brought a black labrador retriever to his meeting with the cynophobic German chancellor Angela Merkel. He is known to begin meetings with American officials by reminding them of every injustice Washington has ever done Moscow, from the mid-20th century to the present day, each summarized on an individual notecard that he slams on the table between them.
Given this mismatch, if Trump managed to get through the affair without reciting America's nuclear codes or promising to withdraw from NATO, then you have to give him credit for beating the spread. Especially since Trump had no experienced diplomat or Kremlinologist by his side — in defiance of some White House aides wishes, Trump refused to allow senior director for European and Russian affairs (and Putin critic) Fiona Hill to attend the meeting.
According to the New York Times, Russia pushed to open up the sitdown to more officials, but the U.S. insisted on limiting it to Putin, Trump, Tillerson, and Russian foreign minister Sergey Lavrov (and their translators) so as to minimize the potential for leaks.