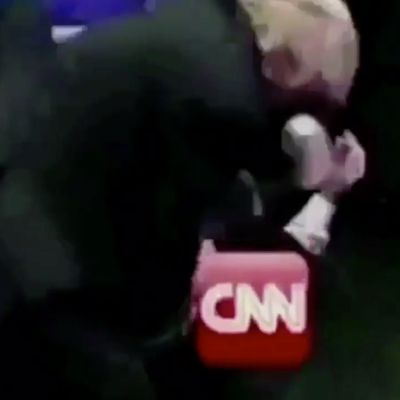 The president of the United States continues to demonstrate that he has the temperament and self-restraint of a 13-year-old boy.
Photo: Screencap/Twitter
Though the White House had said that President Trump would be spending his Fourth of July weekend working on his administration's health-care bill, the president has instead focused his attention on continuing to attack the media. After drawing widespread bipartisan criticism for a particularly vicious tweet about Morning Joe host Mika Brzezinski on Thursday, Trump had suspended his media attacks — that is, at least until Saturday morning, when he proceeded to attack MSNBC and, in his own Trumpian way, temper his previous attack on the Morning Joe hosts by declaring that they were still "crazy" and "dumb as a rock" but "not bad people." Trump also went after CNN repeatedly on Saturday, reiterating his fake-news canard, adding that the network produced "garbage journalism" and, later in the day, explaining that he was "thinking about changing the name #FakeNews CNN to #FraudNewsCNN!"
Then on Sunday, because the president of the United States doesn't just see himself as the nation's greatest anti-media hashtag-generator, Trump also shared a short video of himself appearing to physically assault CNN. The video, a version of which first appeared on a pro-Trump Reddit last week, originally showed a WWE bit in which Trump pretended to knock over, mount, and repeatedly punch Vince McMahon at Wrestlemania XXIII in 2007, only someone had now superimposed the CNN logo over McMahon's head:
On Thursday, deputy White House press secretary Sarah Huckabee Sanders, while attempting to defend the president's earlier attack on Mika Brzezinski, absurdly claimed that Trump "in no way, form or fashion has ever promoted or encouraged violence — if anything quite the contrary," despite the fact that Trump has repeatedly done so and that, with Sunday's video, he has done so, again.
Confronted with Trump's new tweet on ABC's This Week on Sunday, homeland security adviser Thomas Bossert said he was proud of Trump's usage of Twitter and that with regards to the video, Trump was "a genuine president expressing himself genuinely." Bossert also commented that "no one would perceive [the video] as a threat. I hope they don't, but I do think that [the president is] beaten up in a way on cable platforms, that he has a right to respond to."
CNN officially responded to the tweet themselves on Sunday by noting that Trump, rather than tackling his responsibilities as president, "is instead involved in juvenile behavior far below the dignity of his office. We will keep doing our jobs. He should start doing his."
Trump's tweets and his shared fantasy of tackling CNN weren't the president's only attempts to dominate the media this weekend, either. On Saturday night, at a political rally in Washington that was planned as a celebration of America's veterans and religious liberty, Trump once again assured his supporters that "the fake media is trying to silence us, but we will not let them."
"The fake media tried to stop us from going to the White House," Trump gloated, "but I'm president and they're not." The crowd roared in response to that line, and the president stopped for several moments to absorb their approval.
President Trump has also been defending and celebrating his use of Twitter over the weekend as well, apparently responding to GOP criticism of his crude attack on Brzezinski. On Saturday afternoon, he accused the media of "working hard to convince Republicans and others I should not use social media — but remember, I won the 2016 election with interviews, speeches, and social media." He then oddly explained that, "My use of social media is not Presidential — it's MODERN DAY PRESIDENTIAL."
This post has been updated to detail additional comments that Trump has made about the media over the weekend.