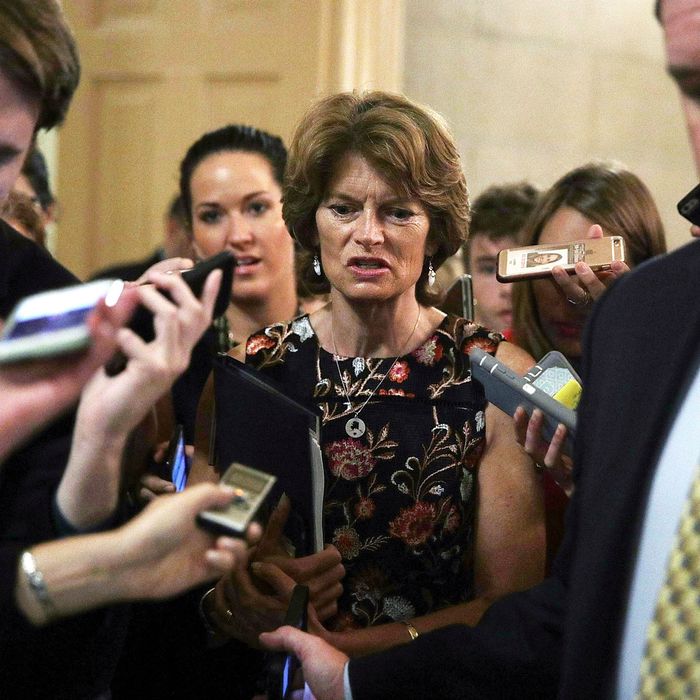 Senator Lisa Murkowski.
Photo: Alex Wong/Getty Images
On Tuesday, President Trump and Senate Republicans won a small victory in their battle to repeal the Affordable Care Act when 50 GOP senators voted to advance their health-care bill to debate. There were two Republican holdouts — Alaska's Lisa Murkowski and Maine's Susan Collins— and on Wednesday, Trump began seeking revenge.
It began with a tweet.
Trump then turned Interior Secretary Ryan Zinke loose on Murkowski, according to Alaska Dispatch News, which says he called her and fellow Republican senator Dan Sullivan with threats. Sullivan, who voted in favor of proceeding to debate on the Senate bill, told the paper that Zinke passed along a "troubling message."
"I'm not going to go into the details, but I fear that the strong economic growth, pro-energy, pro-mining, pro-jobs and personnel from Alaska who are part of those policies are going to stop," Sullivan said.




"I tried to push back on behalf of all Alaskans … We're facing some difficult times and there's a lot of enthusiasm for the policies that Secretary Zinke and the president have been talking about with regard to our economy. But the message was pretty clear," Sullivan said.
ADN points out some of the efforts that Zinke threatened include the construction of a road through a wildlife refuge and future oil drilling in the Arctic National Wildlife Refuge and in the National Petroleum Reserve-Alaska. These projects would bring jobs and much-needed economic activity to Alaska and scuttling them would hurt the Alaskan people more than its two senators.
The irony here is that both Zinke and Trump have touted these projects, despite opposition from environmentalists. But now that Murkowski is not doing what he wants, Trump is threatening to protect the environment out of vengeance.