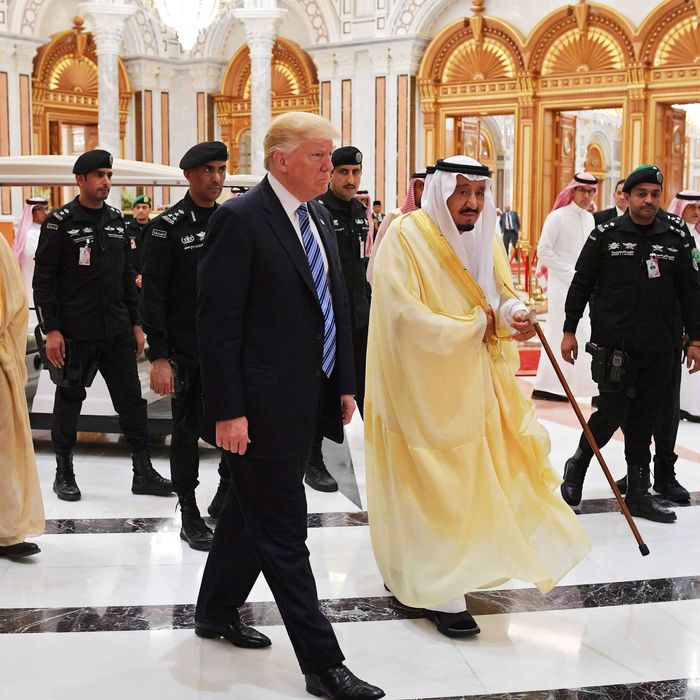 Trump with King Salman.
Photo: Mandel Ngan/AFP/Getty Images
President Trump is being called on to use his newfound relationship with Saudi Arabia to stop the execution-by-beheading of a Saudi student and anti-government protester who was planning to go to college in the U.S. In 2012, 17-year-old Mujtaba al-Sweikat was arrested at an airport just as he was about to board a flight to the U.S. He was on his way to visit Western Michigan University, where he was later accepted.
The pleas for Trump to intervene on al-Sweikat's behalf come as he and a group of 13 other men appear to be on the verge of being executed. Like al-Sweikat, the men were mostly charged with offenses related to attending pro-democracy protests and imprisoned in city of Dammam. Recently though, they were all moved to Riyadh, where the Saudi regime typically performs executions.
Among the organizations calling on Trump to get involved is the American Federation of Teachers. "Saudi Arabia's threat to behead its own citizens for attending an anti-government protest is an unthinkable and despicable violation of international law and basic humanity," said Randi Weingarten, the union's president. "We implore President Trump, as the standard-bearer for our great nation, to do everything in his power to stop the atrocities that may otherwise take place in Saudi Arabia."
The international human-rights organization Reprieve says Saudi Arabia has already executed 57 people in 2017, and is asking Trump to keep al-Sweikat off that list.
Trump and Secretary of State Rex Tillerson should "use their close ties to Saudi Arabia to make clear that these egregious abuses must stop — and the imminent executions be immediately stayed," Reprieve's director, Maya Foa, told the Detroit Free Press.
The organization says the confessions of the 14 men who face "imminent execution" were extracted through torture and that al-Sweikat was never allowed access to a lawyer.
President Trump has been reluctant to criticize Saudi Arabia since taking office, despite saying during the campaign that its leaders "want women as slaves and to kill gays."
In a speech in Riyadh in May, he changed his tune. "We are not here to lecture — we are not here to tell other people how to live, what to do, who to be, or how to worship," he said. "Instead, we are here to offer partnership — based on shared interests and values — to pursue a better future for us all."