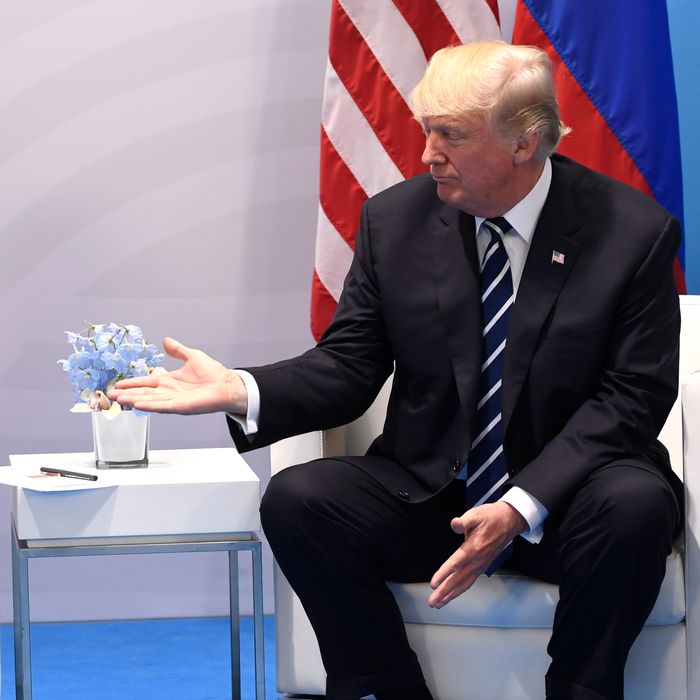 A former KGB agent (L) and a former reality-television star (R) discussed geopolitics at the G20 summit on Friday.
Photo: Saul Loeb/AFP/Getty Images
President Trump has finally released his official version of what happened in the long meeting he had with Russian president Vladimir Putin at the G20 on Friday, firing off a Sunday morning tweetstorm after having skipped out of Hamburg the day before without holding a press conference. On the key issue of Russia's meddling in the 2016 U.S. presidential election, Trump announced that he "strongly pressed" Putin on the issue "twice" and Putin "vehemently denied it." Then Trump said that he has "already given my opinion" on the matter, which as of last week was that he still doubted Russia was solely responsible for the election hacking — a conclusion which the U.S. intelligence community does not share. After hailing his and Putin's agreement to a pre-agreed ceasefire in Syria, Trump then wrote that "now it is time to move forward in working constructively with Russia!" To that end, Trump said that he and Putin "discussed forming an impenetrable Cyber Security unit so that election hacking, [and] many other negative things, will be guarded and safe."
So, in other words, Trump's response to the Russian government's interference in last year's presidential election, with the adversarial intent of helping Trump get elected, was to consider working together on election cybersecurity in the future.
In his other tweets, Trump moved into obfuscation mode, suggesting, again, that the Russians (or others at the G20, or somewhere) asked why the Democratic National Committee, which U.S. intelligence officials believe was hacked by the Russians, did not turn over their servers to U.S. intelligence officials. This was before Trump suggested again that the Russian election-attack story was "fake news" and implied again that President Obama was somehow complicit in the alleged attack by failing to prevent it. Trump also said that U.S. sanctions "were not discussed" at the meeting, adding that, "Nothing will be done until the Ukrainian [and] Syrian problems are solved!"
While little of what President Trump said on Sunday morning makes much sense, he did seem to clear up some of the confusion surrounding the official Russian and less-official U.S. versions of what happened at the meeting.
The official Russian version, offered by both Putin and Russian foreign minister Sergey Lavrov in press conferences, is that President Trump had asked Putin whether or not Russia had interfered in the U.S. election, Putin had denied it, and Trump had accepted that denial. Lavrov said that Trump had not been confrontational and had assured them that many in the U.S. had been "exaggerating" the Russian meddling without proof. Putin said on Saturday that Trump had asked many questions about the election interference, but that he thought Trump seemed satisfied with his answers and denial. Putin also encouraged reporters to ask Trump himself about what he thought, and when told that the White House hadn't released any information about the meeting, Putin joked that he would instruct the Trump administration to fix that.
(The Russian president also said, in what he may or may not have meant as a compliment, that "The television Trump is very different from the real man," explaining that Trump "is absolutely specific, adequately perceives his interlocutor, analyzes quickly, answers the questions he is asked and whatever subjects arise during a discussion" — a bar which Putin seems to have thought Trump might not be able to clear.)
In the absence of an official White House account of Friday's big meeting, Secretary of State Rex Tillerson, who was the only other U.S. official to attend it, claimed that Trump had repeatedly pressed Putin on the election hacking. The New York Times reports that Tillerson told an associate that Trump even opened the meeting by confronting Putin about the election hack, saying, "I'm going to get this out of the way: Did you do this?" — despite the fact that U.S. intelligence officials have already concluded that Russia had. According to Tillerson, the two leaders then had a "very robust and lengthy exchange on the subject," but that they were "rightly focused" on how they could move forward, beyond the "intractable disagreement" over the election hacking. Tillerson also said that sanctions were discussed in the meeting, referring to the current congressional push to pass new sanctions on Russia in retaliation for the election hacks. That bill, which the White House has been trying to water down or block, is currently being held up in the House of Representatives. On Sunday, Trump contradicted Tillerson, tweeting that sanctions "were not discussed" at the meeting.
White House officials disputed Lavrov's account of the meeting on Friday, but the question lingered into the weekend: Did Trump actually indicate that he accepted Putin's denial — essentially choosing to believe the Russian president over the U.S. intelligence community? Speaking with reporters aboard Air Force One after the end of the summit, national security adviser H.R. McMaster and Treasury Secretary Steve Mnuchin both declined to deny that Trump had accepted Russia's profession of innocence. "I think President Trump handled it brilliantly," Mnuchin answered instead. Neither of them was at the meeting. In a television appearance on Saturday, former Trump campaign manager Corey Lewandowski — who is apparently still regularly consulted by Trump — went another direction, insisting that Putin's denial of responsibility meant that the Russian election-meddling issue was now "officially dead."
The next day, White House chief of staff Reince Priebus offered the more explicit denial that McMaster and Mnuchin wouldn't. Appearing on Fox News Sunday, Priebus, who also didn't attend the Putin meeting, declared that "The president absolutely did not believe the denial of President Putin," though he hedged a bit as well, adding that "Yes, [President Trump] believes that Russia probably committed all of these acts that we've been told of, but he also believes that other countries also participated in this activity." Pressed on whether or not Trump was letting Putin "off the hook" by wanting to now "move forward constructively" with Russia, Priebus replied that the president means that "we're not going to forgo progress simply because we have a disagreement in regards to this meddling in the United States election."
Ultimately, after looking at Trump's comments on Sunday morning, as well as the spectrum of comments from his cabinet members, it seems reasonable to assume that the Russian version of the meeting — that Trump accepted Putin's assurances that he had nothing to do with the U.S. election hacks — may be credible. That's particularly apparent if Trump's takeaway from the conversation was that it would somehow make sense for the U.S. and Russia to work together on election cybersecurity, or that Putin's vehement denial was in any way sufficient. He certainly didn't deny that he had accepted Putin's denial, which, even in a sloppy tweetstorm, would have been easy to do. At best, Trump's baseless conclusion remains that "nobody knows for sure" what happened with the election interference and so it's time to move on, which is conveniently obtuse for a president who directly benefited from that interference and whose inner circle is under investigation for possible collusion regarding the matter.
In the meantime, it appears that the Trump administration is taking the cybersecurity team-up seriously — even as objections to the plan are being quickly raised within the GOP. Secretary of State Tillerson, speaking with reporters on Sunday, explained that the U.S. and Russia have agreed "to explore a framework under which we might begin to have agreement on how to deal with these very complex issues of cyberthreats, cybersecurity, cyber intrusions." On ABC's This Week on Sunday, Treasury Secretary Mnuchin went further in describing the cybersecurity partnership, which he oddly suggested would be like one the U.S. undertakes with its allies (Russia is not a U.S. ally):
I think this is a very important step forward that what we want to make sure is that we coordinate with Russia, that we're focused on cybersecurity together, that we make sure that they never interfere in any democratic elections or conduct any cybersecurity. And this is like any other strategic alliance, whether we're doing military exercises with our allies or anything else. This is about having capabilities to make sure that we both fight cyber together, which I think is a very significant accomplishment for President Trump.
It is definitely not much of an accomplishment, however, if Russia is still launching cyberattacks on the U.S. On Saturday, a Washington Post report indicated that U.S. intelligence officials have now concluded that Russian hackers have successfully penetrated the computer networks of nuclear power and other energy companies in the U.S.
Update: It's also not much of an accomplishment if the president, after less than a day of criticism and ridicule, hastily admits that the "impenetrable" Russo-American cybersecurity alliance can't actually happen, as Trump did on Sunday night.