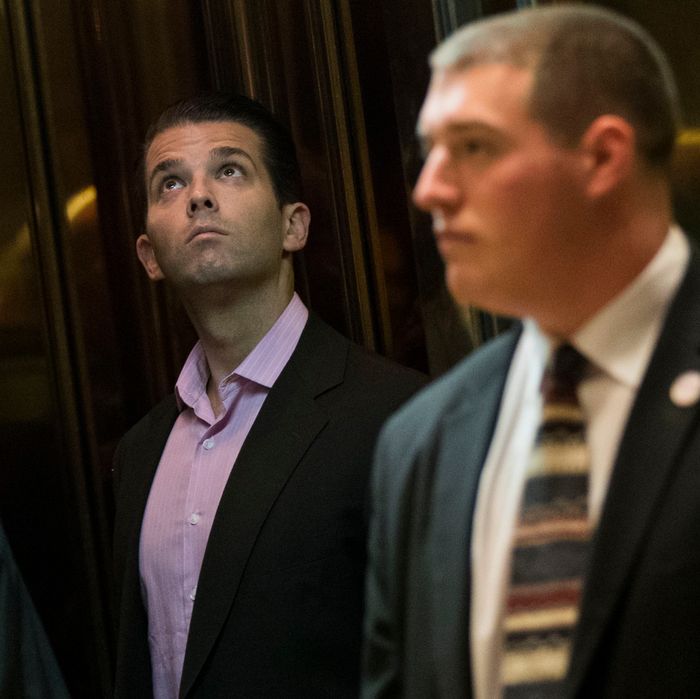 Donald Jr. taking an elevator in Trump Tower shortly after his father won the presidential election.
Photo: Drew Angerer/Getty Images
One of President Trump's lawyers, Jay Sekulow, has suggested that the U.S. Secret Service is to blame if Donald Trump Jr. was able to meet with anyone connected to the Russian government at a now-infamous meeting in the middle of last year's presidential campaign — despite the fact that Trump Jr. wasn't yet under the agency's protection.
Last week, Trump Jr. admitted that he took the June 9, 2016 meeting in Trump Tower after being promised dirt on Hillary Clinton — dirt which he was told originated with the Russian government. But despite his admission, Trump Jr. and the White House have insisted that no one was trying to collude with Russia and nothing ultimately came of the meeting. Appearing on ABC's This Week on Sunday, Sekulow additionally tried to downplay suspicions about who attended by reasoning that "If this was nefarious, why'd the Secret Service allow these people in?"
Responding to Sekulow's comments, the Secret Service said on Sunday that Trump Jr. was not even under their protection at that point in the campaign, so they didn't vet the meeting. "We would not have screened anyone he was meeting with at that time," an agency spokesperson announced.
Sunday morning wasn't the first time Sekulow threw shade at the Secret Service this weekend; he made similar comments Friday night on CNN during an interview with Anderson Cooper. Referring to one of the meeting's attendees, Russian lawyer Natalia Veselnitskaya, who was labeled a "Russian government lawyer" in the original meeting pitch to Trump Jr., Sekulow asked Cooper, "How in the world did the Secret Service allow her into a meeting at that point that took place with campaign officials if she was actually a government operative? Why would the Secret Service have allowed that?"
Of course, even if they had been protecting Donald Jr., it's not the Secret Service's job to babysit the president's adult son, make sure he doesn't hold nefarious meetings, or prevent him from violating U.S. election laws. The Secret Service's job is to make sure that the attendees of those meetings aren't able to physically harm the people they are protecting. Trump's attorney, however, seems to think the agency should also be investigating whether or not representatives of the "Russian government," with whom members of Trump's inner circle agreed to meet, are indeed affiliated with the Russian government.
(As of Friday, at least eight people are reported to have attended the meeting, including a former Russian counterintelligence officer.)
After politicizing the Secret Service on Sunday's This Week, Sekulow also worked to frame Trump Jr.'s get-together as perfectly legal, characterizing the meeting as "more process" — whatever that's supposed to mean. Sekulow covered this ground in his CNN interview on Friday as well, asking Anderson Cooper, "What statute is being violated here?" Then, though the attorney acknowledged Trump Jr.'s meeting was "interesting, and I understand why you're covering it," he claimed that "the meeting itself is not a violation of the law."
Across six television appearances over the weekend, Sekulow reiterated, as the White House has maintained, that President Trump was not aware of the meeting — which was also attended by his son-in-law Jared Kushner and then–campaign chair Paul Manafort — until recently. Sekulow also denied that Trump played a role in Trump Jr.'s original, hilariously false statement about the meeting, insisting "a lot of people meet with Russian people" and additionally implying the whole meeting may have been a setup as other Trump attorneys have claimed.
It's not yet clear whether any laws were actually broken during, or as a result of, the Trump Jr. meeting, but almost every new detail that comes to light makes the meeting seem more and more suspicious. Until all the facts are known, no amount of lawyerly spin is going to clear that smoke.
This post has been updated throughout to reflect the Secret Service's statement on the matter.