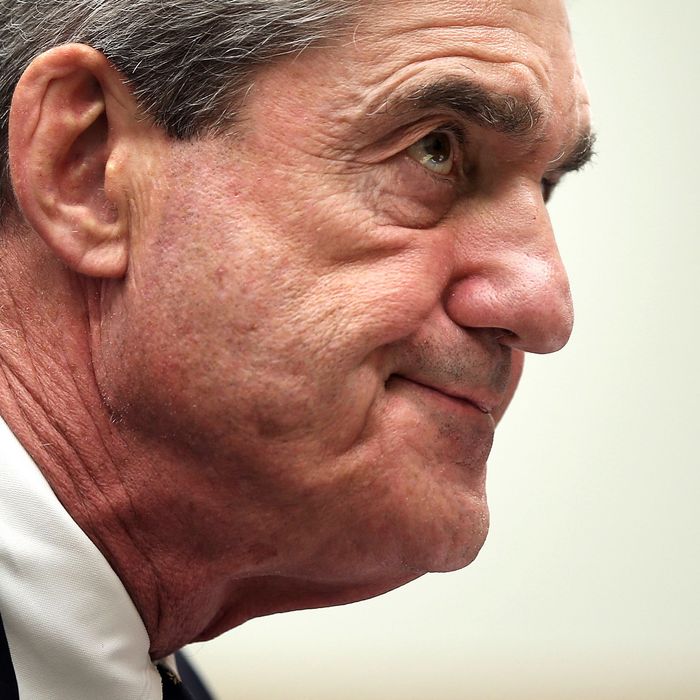 Next he'll claim Mueller just wants to be on TV and give his kids cushy jobs.
Photo: Alex Wong/Getty Images
Earlier this week, President Trump lashed out at top Justice Department officials in an interview with the New York Times, accusing them of various "conflicts of interest." It seemed like an odd phrase for the president to use, first, because it draws attention to his administration's dizzying array of conflicts of interest; and second, because he seems to think any law-enforcement official is conflicted if they show loyalty to something other than Donald Trump.
Two reports out Thursday night shed light on why Trump used the phrase multiple times. Sources tell the New York Times that Trump's attorneys are working on a new tactic to undercut the Russia probe: looking into the backgrounds of the investigators working with Special Counsel Robert Mueller and using that information either to discredit the investigation or to force investigators to recuse themselves.
Under Justice Department regulations, the attorney general can fire a special counsel if he or she has a conflict of interest. In this case, Trump's attorneys would present their case for the removal of Mueller or one of his colleagues to Deputy Attorney General Rod Rosenstein. So far, they've discovered that some of the investigators contributed to Democratic candidates or worked for organizations run by Democrats:
For weeks, Republicans have publicly identified what they see as potential conflicts among Mr. Mueller's team of more than a dozen investigators. In particular, they have cited thousands of dollars of political donations to Democrats, including former President Barack Obama, made by Andrew Weissmann, a former senior Justice Department official who has expertise in fraud and other financial crimes. News reports have revealed similar donations by other members of Mr. Mueller's team, which Mr. Trump's allies have cited as evidence of political bias. Another lawyer Mr. Mueller has hired, Jeannie Rhee, represented the Clinton Foundation.
As the Times explains, there are explicit rules about what constitutes a conflict of interest and campaign donations are not on the list. So, that's out. But what if they could prove that Mueller has been harboring a grudge against Trump for the past six years over golf-club-membership fees? Per the Washington Post:
Another potential conflict claim is an allegation that Mueller and Trump National Golf Club in Northern Virginia had a dispute over membership fees when Mueller resigned as a member in 2011, two White House advisers said. A spokesman for Mueller said there was no dispute when Mueller, who was FBI director at the time, left the club.
Trump's lawyer, Jay Sekulow, would not discuss specific gripes with Mueller's team, but he said "any good lawyer would raise, at the appropriate time and in the appropriate venue, conflict-of-interest issues."
Comments made by Trump and his associates over the past two days suggest they may be trying to intimidate Mueller and his team through the media. Trump's cohort has implied that if investigators have any secrets — or just forgot to tip housekeeping at a Trump hotel — the world may soon find out.
They've also clearly outlined which actions could provoke retaliation from the White House — namely, looking at the Trump family's finances more closely. The president reportedly told aides that he was particularly disturbed when he learned Mueller could access several years of his tax returns, which Trump refused to release during the campaign.
"If you're looking at Russian collusion, the president's tax returns would be outside that investigation," a close adviser to the president told the Post.
Sekulow told the paper that the president wants to make sure Mueller sticks to his assignment and will complain to him directly if necessary:
"The fact is that the president is concerned about conflicts that exist within the special counsel's office and any changes in the scope of the investigation," Sekulow said. "The scope is going to have to stay within his mandate. If there's drifting, we're going to object."




Sekulow cited Bloomberg News reports that Mueller is scrutinizing some of Trump's business dealings, including with a Russian oligarch who purchased a Palm Beach mansion from Trump for $95 million in 2008. 




"They're talking about real estate transactions in Palm Beach several years ago," Sekulow said. "In our view, this is far outside the scope of a legitimate investigation."
It's absurd to suggest that the president's business dealings with Russian oligarchs are not pertinent to an investigation into Trump's possible collusion with the Russians. By registering their strenuous objections, it's almost like the Trump team is shouting to Mueller and Co., You're right, there's something shady in the president's tax returns.
But, of course, Trump still has an ace up his sleeve. Per the Post;
Trump has asked his advisers about his power to pardon aides, family members and even himself in connection with the probe, according to one of those people. A second person said Trump's lawyers have been discussing the president's pardoning powers among themselves.




Trump's legal team declined to comment on the issue. But one adviser said the president has simply expressed a curiosity in understanding the reach of his pardoning authority, as well as the limits of Mueller's investigation.




"This is not in the context of, 'I can't wait to pardon myself,' " a close adviser said.
It seems clearer than ever we're going to learn the ins and outs of firing a special counsel and all about the president's pardoning authority.