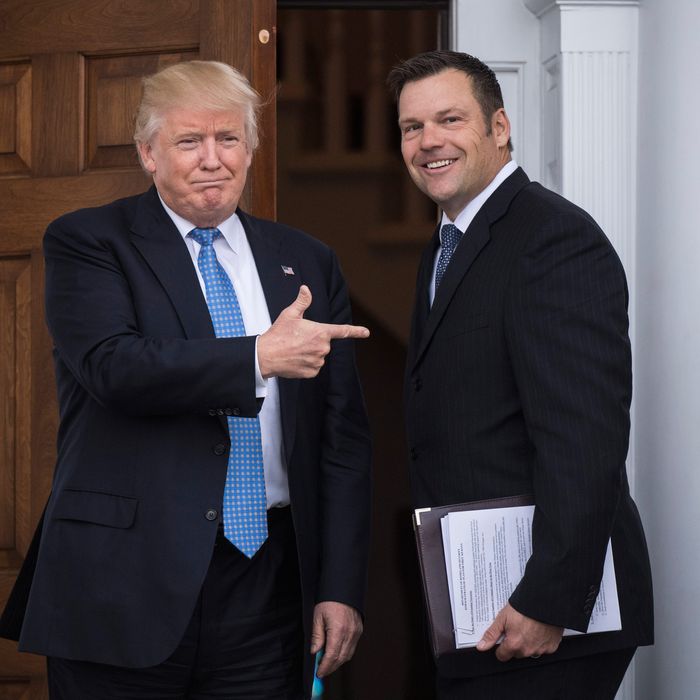 Photo: Jabin Botsford/The Washington Post/Getty Images
Kris Kobach, co-chair of the Presidential Advisory Commission on Election Integrity and strong candidate in the ultra-competitive "scariest person in the Trump Administration" sweepstakes, sees voter fraud everywhere. No matter that the phenomenon barely exists, Kobach bravely battles it anyway. In his noble quest, he's like King Arthur, if King Arthur were really into disenfranchising minorities.
When Kobach's commission recently sent a letter to states requesting sensitive voter information, it was rebuffed by almost all of them. (Mississippi's secretary of State memorably responded, "They can go jump in the Gulf of Mexico, and Mississippi is a great state to launch from.") But Kobach has nevertheless already accomplished his central goal of cutting down the voter rolls. In a piece of utterly depressing news, the Denver Post reports that almost 3,400 Coloradans canceled their registration after hearing about the commission's request. Officials told the Post that the voters had "typically given them two reasons for the withdrawals: They don't trust President Donald Trump's voter integrity commission, and they didn't realize how much of their voter registration information was already public under state law."
Like many states, Colorado merely offered to hand over information to Kobach that was already public (though its secretary of State was unusually warm in his response to the commission). Such information varies by state, but in Colorado, it includes name, address, birth year, and voting status — apparently enough to spook a significant number of people, with undoubtedly more to come. And, of course, this is only one state; we don't know what voting-roll attrition looks like elsewhere.
Kobach's reaction to all this offers a window into his conspiracy-addled worldview. In an interview with Breitbart News, he offered this perspective on why people might cancel their registration:
"It could be a number of things. It could be, actually, people who are not qualified to vote, perhaps someone who is a felon and is disqualified that way or someone who is not a U.S. citizen saying, 'I'm withdrawing my voter registration because I am not able to vote,'" he said. "It could be a political stunt — people who are trying to discredit the commission and withdrawing temporarily because they are politically active but planning to get back on the voter rolls before the election next November."
Many factors are working against Kobach and his zealot colleagues in their attempts to undermine America's voting laws. For one thing, there are the facts: Study after study after study confirms that voter fraud is not a significant problem. Kobach's two-year investigation during his tenure as secretary of State of Kansas turned up a total of nine cases. Then there are the legal hurdles: Though he calls himself "the A.C.L.U.'s worst nightmare," he is 0 for 4 against them in court. There's also the incompetence, a hallmark of the Trump administration. Slate's Mark Joseph Stern details how the commission's complete disregard for laws and statutes has opened it up to multiple lawsuits (one from its familiar foe, the ACLU) to the point that the commission has had to pause its collection of voter data while it cleans up its own messes.
So, Kobach's vision of kicking millions off the voter rolls may or may not be fulfilled. But the reports out of Colorado make it clear that his mere attempt, justified by Donald Trump's conspiracy theory about the popular vote, is already damaging our democracy.