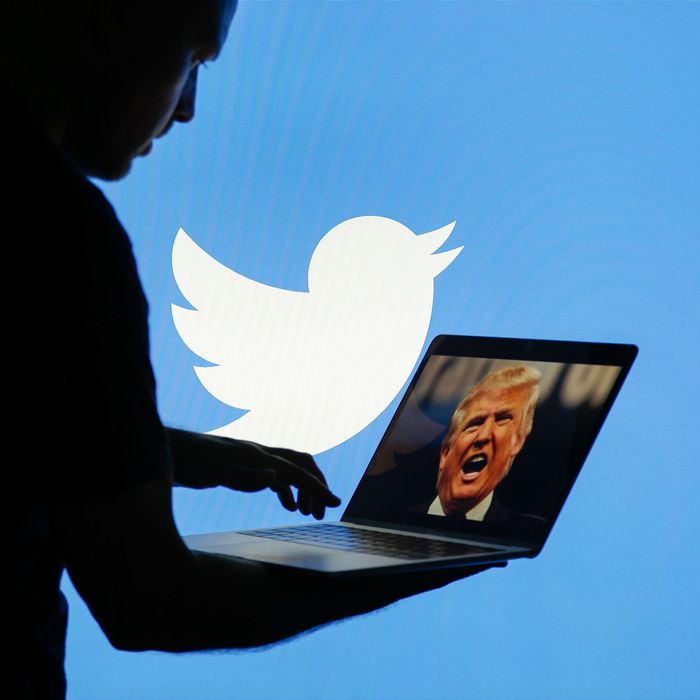 Blocked.
Photo: Jaap Arriens/NurPhoto via Getty Images
Being blocked by President Trump on Twitter might sound like a blessing, but seven people who can claim that badge of honor don't see it that way. So on Tuesday, in a move the litigation-loving president has to respect, they sued.
The users, who were blocked for calling Trump a "#fakeleader" among other things, say he is violating their First Amendment rights by preventing them from reading and replying to his tweets.
Represented by the Knight First Amendment Institute at Columbia University, they argue that Trump's Twitter account is the equivalent of a "digital town hall" and barring citizens from interacting with him is like banning them from a public park or city council meeting. Sean Spicer and Trump's social-media director Dan Scavino are also named as defendants in the suit.
The plaintiffs are asking the Federal District Court for the Southern District of New York to rule that Trump's blocking is unconstitutional, to force him to unblock them, and to forbid him from blocking anyone in the future.
The issue that figures to be at the center of the case is whether Trump's Twitter account is personal or more of a tool of the federal government. The Knight Institute has argued that Trump has made it an "official account" by making government announcements with it, such as his choice of Christopher Wray to lead the FBI.
Bolstering the group's claim is a statement Spicer made last month. "The president is the president of the United States, so they're considered official statements by the president of the United States," he said when asked about Trump's tweets.