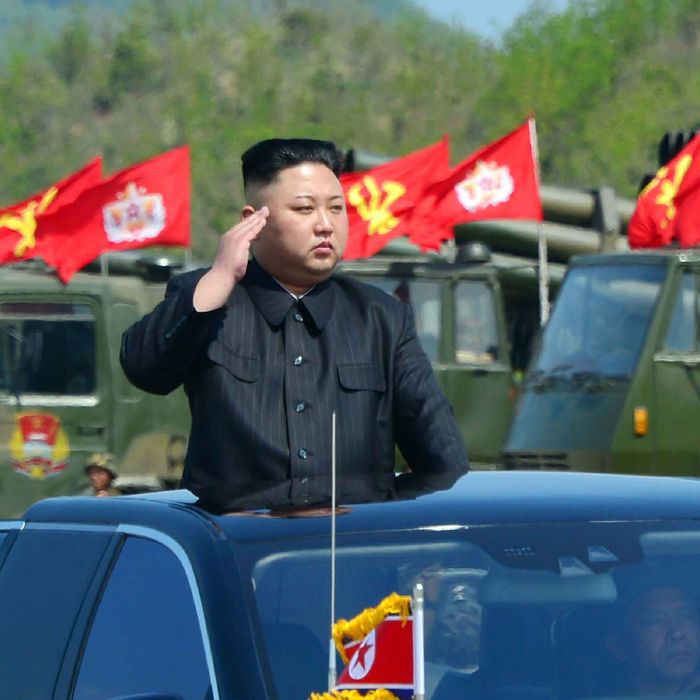 Sad to see Dennis Rodman go.
Photo: STR/AFP/Getty Images
United States citizens will soon be barred from traveling to North Korea, a move the Trump administration has made in the aftermath of the June death of Otto Warmbier. The Ohio-native was imprisoned after visiting North Korea last year and died last month after he was returned to the U.S. in a coma.
Though it hasn't been officially announced by the government, the ban was confirmed by two travel agencies that take Americans to North Korea. Both Koryo Tours and Young Pioneers Tours have said that the ban will go into effect at the end of August. An anonymous U.S. official has also confirmed it to CNN. After the ban goes into effect, anyone traveling to North Korea on a U.S. passport will have it invalidated by the U.S. government.
The new rule will not affect many Americans. In recent years, the number of visitors to North Korea, which the State Department warns Americans against visiting, has rarely exceeded 1,250, according to ABC News.
News of the travel ban comes just as the U.S. state closest to North Korea begins to prepare for the possibility of a nuclear strike. On Friday, the Hawaii Emergency Management System began rolling out an education plan to prepare Hawaiians for the possibility of 15-kiloton nuclear bomb being detonated 1,000 feet above the capital city of Honolulu.
So far, it calls for PSAs telling people to "get inside, stay inside, and stay tuned," according to Hawaii News Now. That may seem obvious, but with as few as eight minutes to prepare for an imminent strike, it's about the only message that's worth spreading. The state is also planning to test a new emergency alarm system in November.
"We do not want to cause any undue stress for the public; however, we have a responsibility to plan for all hazards," said Vern Miyagi, the administrator of the agency.
Meanwhile, in Washington, D.C., the head of CIA is spouting off about regime change in Pyongyang, which might make Hawaiian officials move a little faster to prepare for that bomb.
"It would be a great thing to denuclearize the peninsula, to get those weapons off of that, but the thing that is most dangerous about it is the character who holds the control over them today," Mike Pompeo said at Aspen Security Forum Thursday. "So from the administration's perspective, the most important thing we can do is separate those two."
"As for the regime, I am hopeful we will find a way to separate that regime from this system," he added. "The North Korean people I'm sure are lovely people and would love to see him go."
Pompeo's comments mark a far more friendly attitude toward regime change than comments from other administration officials. Like the one from Secretary of State Rex Tillerson, who said in April, "Our goal is not regime change."