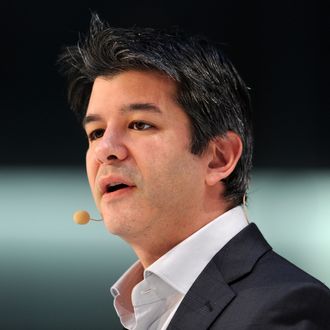 Travis Kalanick.
Photo: TOBIAS HASE/AFP/Getty Images
Nearly two months after Uber's infamous founder and CEO Travis Kalanick announced he'd be taking an indefinite leave of absence, Uber still doesn't have a replacement for him. (Officially, he's using the time to mourn his mother's sudden death in a boating accident.) The company is reportedly going to be making its pick in the coming weeks, but as of last Friday, its candidates no longer include any women. Meg Whitman, current CEO of Hewlett Packard Enterprise, announced on Twitter that she would not be leaving her current role to head Uber.
While bringing in a woman to run the company certainly wouldn't have fixed Uber overnight, it would have been a nice show of Uber's commitment to fixing its toxic culture and rampant gender-discrimination problem. The company has been dealing with a growing list of very public complaints from current and former employees, ever since ex-Uber engineer Susan Fowler published a scorched-earth blog post about the year she spent at the company and the discrimination she says she faced. That post inspired the company to bring in former U.S. Attorney General Eric Holder to conduct an independent review of the company and compile a list of recommendations to fix it. Which included, in not so many words, getting Kalanick out of power, or at least, as much power as he wielded as CEO.
All of Uber's remaining candidates to fill Kalanick's open seat are male, Recode reports. On top of that, reportedly only one of the four options is a person of color. Among them is GE CEO Jeff Immelt, though Recode notes he is not a "top choice" among some of the higher-ups over at Uber who are making the decision.
A decision that should probably be made soon, given reports that keeping Kalanick from meddling in the company's business, even while he's on leave, is proving easier said than done. Several sources close to Kalanick told Recode he believes he'll be able to pull a "Steve Jobs," meaning he'll be able to make a redemptive comeback after being ousted. It's a move that recent discussions of a potential investment in Uber from Japanese telecom company SoftBank could help Kalanick pull off. The investment, as noted by the New York Times, could weaken other shareholders stakes in the company, and SoftBank's CEO, Masayoshi Son, could be a strong ally in fighting to bring back Kalanick. "Travis would have to blow it up completely to get his job back," an anonymous investor told Recode. "And maybe he is crazy enough to do that, but he'd better bring a lot more ammo."