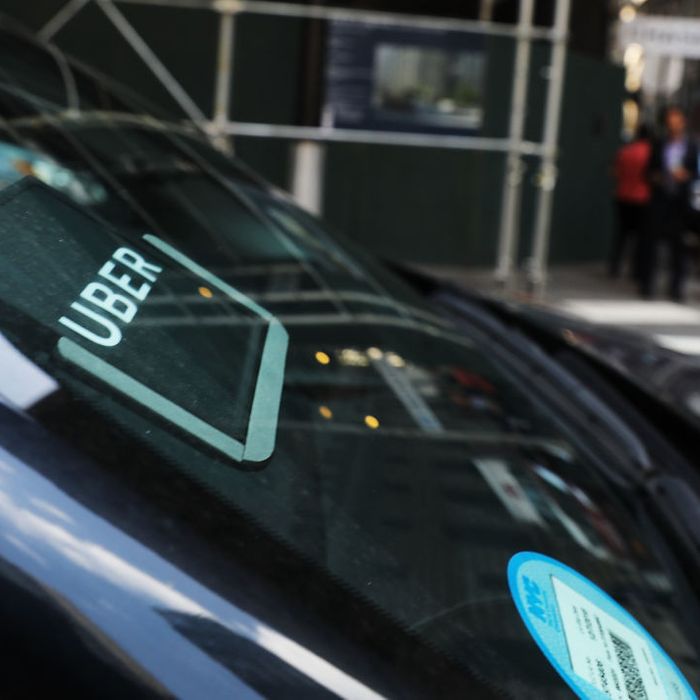 An Uber driver in New York City.
Photo: Spencer Platt/Getty Images
Ever left your phone or wallet behind in an Uber? Until recently, Uber's official policy was to put you in touch with the driver and let the two of you work it out on your own. That will change, as Uber will now start allowing drivers to charge a $15 flat fee for returning lost items.
But lost items have long been a source of aggravation for drivers. Forums dedicated to Uber drivers are full of stories of drivers who return lost items while not on the clock, only to receive no compensation or tip (or, in one driver's case, no money and a packet of dried mangoes).
Uber and its competitors, such as Lyft, aren't just battling over customers — they are fighting for drivers. The $15 return fee is part of a wave of initiatives Uber is rolling out in hopes of upping its driver-retention rate, keeping them from switching from Uber to driving for a competitor (for drivers, it's as simple as switching from one app to another). It recently introduced the ability to tip in its app and is upgrading its driver-support hotlines. Perhaps even more important for drivers, whose ability to earn on Uber is highly dependent on their rating, is protection from bad ratings due to factors outside of their control (e.g., bad traffic).
That $15 fee for lost items now stands in contrast to Lyft, which doesn't have a lost-item-delivery fee (though it does encourage customers to tip their driver), and stops drivers from getting stiffed altogether — but it may still be too little. Harry Campbell, whose blog the Rideshare Guy is a clearinghouse of information for drivers, put together a video in 2016 about how drivers should charge customers when they leave a phone behind. He suggested a flat fee ranging from $20 to $40 for returning a phone to customers if the driver is already far away from the passenger.
So if you do happen to leave something behind and have a driver make a long haul to get something back to you, you may want to tip on top of that $15. After all, it's not just the driver who gets a five-star rating. You, as a passenger, are getting rated as well.