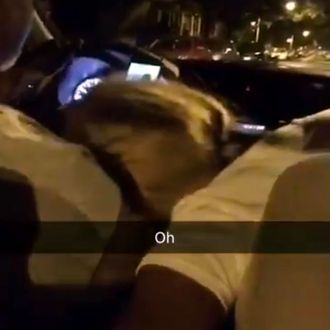 Photo: Aner Manuel/Facebook
We've heard plenty of stories about Uber drivers behaving horrifically in their cars and, likewise, plenty of about passengers behaving badly. (Including that one time Uber's infamous former CEO, Travis Kalanick— he's currently on an indefinite leave of absence — cursed out his driver.) Rarely do we hear stories about anybody else misbehaving in Uber cars … mostly because there isn't ever supposed to be anyone other than driver and passenger in the vehicle. That should have been the first red flag for Aner Manuel, a Boston man who claims he got into an Uber car earlier in July and found an intoxicated woman already in the passenger seat. (Manuel had ordered a private Uber, not a Pool.) The woman, according to a post Manuel wrote on Uber's Facebook wall, "was clearly on drugs" and performed oral sex on the driver while Manuel was still in the car. Manuel included a video of the alleged incident in his post.
From Manuel's post:
On Sunday July 16th I received the most dangerous and inappropriate uber ride ever. As I approached my uber, I noticed there was a passenger in the front seat. I double checked to make sure I didn't select UberPool, and then approached the car. I assumed it may have been a family member of some sort. As we pulled off the female in the front (who was clearly on drugs) attempted to open the door and could not even sit straight as the vehicle was in motion. She then began to grope him and grab him. They began to kiss and she began loosening his belt. As we got further and further from my pickup location I had no idea where I was, so I had to stay in the car. She then proceeded to perform oral sex. This was my last straw. I asked the driver to drop me off. Since I've contacted uber and they refunded me for trip and gave me a "$10 credit". They've seen this video and are still "investigating". They have been extremely bad at answering any messages I've sent, and I demand something gets done. This is not okay!
Uber told Gizmodo the company is investigating the incident, calling the driver's reported behavior "appalling." "As soon as this situation was reported to us, we immediately removed this driver's access," Uber said. A friendly reminder, Uber policy states drivers are not permitted to have anyone else in the car with them while they're working. If a car shows up with somebody else in it, cancel and call another one. Select All has reached out to Uber and will update this post if we hear back.