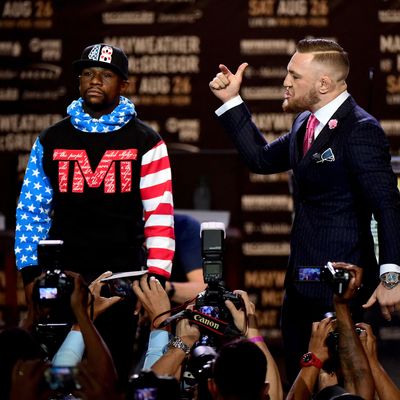 Floyd Mayweather and Conor McGregor.
Photo: Harry How/Getty Images
On August 26, retired boxer Floyd Mayweather Jr. and UFC superstar Conor McGregor will step into a ring in Las Vegas for the biggest, and dumbest, sporting spectacle in years. President Trump wishes he could be there.
So says UFC president Dana White, who told reporters Tuesday that the White House recently contacted him about the possibility of Trump watching the fight in person.
"They called me yesterday, and I don't think they're going to come, but they'll be watching," White said Tuesday.
Asked if the White House expressed interest in Trump attending, White said, "100 percent."
He added that, unlike Mayweather's last blockbuster fight, a complete snoozer against Manny Pacquiao, Trump won't be sitting ringside. "He feels like he'll ruin events, he'll ruin the event if he shows up. Secret Service is going to have to go through the place. They'll have to shut down streets and create crazy traffic," White said.
Sounds like Trump will have to settle for the $100 pay-per-view package.
The president's interest in this fight is no surprise. He's long been a boxing fan, or at least a fan of the circus that surrounds it. And there's no wilder circus in sports right now than Mayweather vs. McGregor, a fight in a boxing ring, with boxing rules, between a dominant, undefeated boxer and a guy who's used to being able to kick, elbow, and take down his opponents. If that makes it sound like McGregor doesn't have a chance in hell, it's because he doesn't.
But like Mayweather before him, McGregor is a master self-promoter and superb shit-talker. So even though the odds are heavily against him, this fight is going to suck up a ton of air. As it approaches, it might, for a moment, become bigger than Trump. And that's why you shouldn't be surprised if he shows up in Vegas, or at the very least, fires off a few tweets about the action from the White House. There's little Trump loves more than a good spectacle, and little he hates more than not being at the center of it.