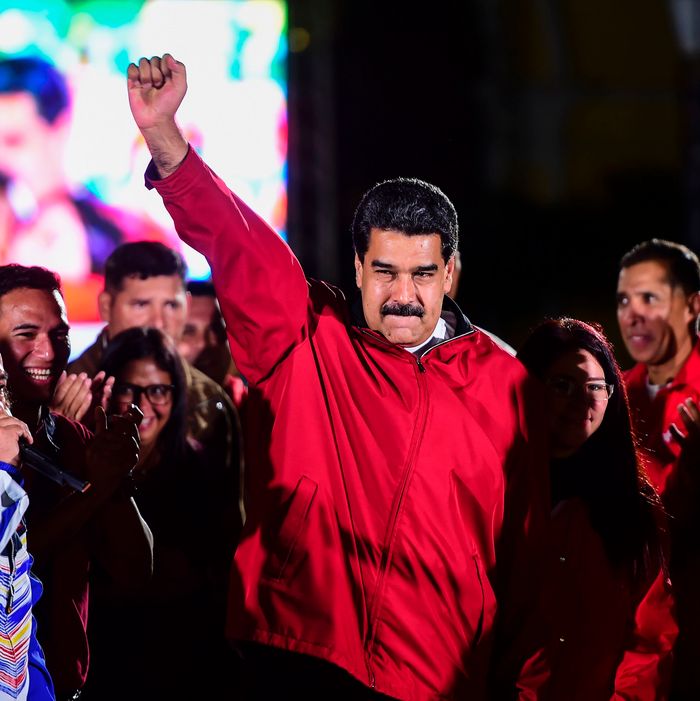 Maduro celebrates the election results on July 31, 2017.
Photo: RONALDO SCHEMIDT/AFP/Getty Images
The Venezuelan government claimed that nearly 8.1 million people, or 41.5 percent of the electorate, turned out on Sunday to elect an assembly tasked with writing a new constitution.
"The people have delivered the constitutional assembly," President Nicolás Maduro said in a televised address. "It's when imperialism challenges us that we prove ourselves worthy of the blood of the liberators that runs through the veins of men, women, children, and young people."
However, those numbers are very much in dispute, with members of the opposition saying only 2 million or 3 million people voted, and one respected independent analysis saying the number was 3.6 million. The opposition called for a boycott of the vote, and it appeared many people stayed away from the polls (plus, some who did vote may have been government employees, or people afraid of losing their government benefits).
"Venezuela has screamed with its silence," said Julio Borges, head of the National Assembly.
Venezuela has been hurdling toward a political crisis for some time, and Sunday's vote was a potential turning point. Maduro's order that the 18-year-old constitution be rewritten was widely seen as an effort to consolidate power. Venezuelans did not get an opportunity to decide whether they wanted a new constitution, they could only vote for who would write it — and all of the candidates on the ballot were government supporters, including Maduro's wife and son. The new body will have authority over every branch of government; it could dissolve the opposition-controlled National Assembly and theoretically even remove Maduro.
The day was marred further by violence, with Venezuela's chief prosecutor's office reporting ten deaths in clashes between protesters and police. Seven police officers were wounded in an explosion when they drove past piles of trash used to block the street in eastern Caracas. One candidate for the assembly, lawyer José Félix Pineda, was killed by an armed group who broke into his home on the eve of the vote.
Several countries rejected the results of the election, including Argentina, Canada, Colombia, Mexico, Panama, Paraguay, Spain, the U.K., and the U.S. Nikki Haley, the U.S. ambassador to the United Nations, tweeted: "Maduro's sham election is another step toward dictatorship. We won't accept an illegit govt. The Venezuelan ppl & democracy will prevail."
A State Department spokesperson promised "strong and swift actions" against government officials, but it's unclear if the Trump administration will place sanctions on Venezuela, which could worsen the humanitarian crisis in the country.