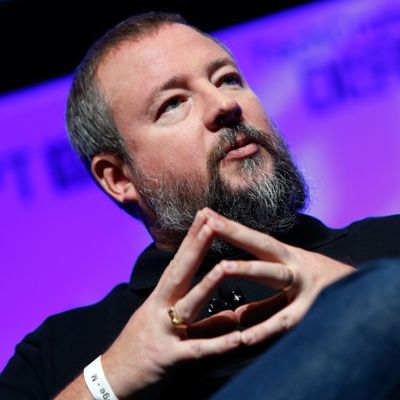 Vice CEO Shane Smith, not laid off.
Photo: Brian Ach/Getty Images for TechCrunch
In the 100th episode of The Office, Michael Scott accidentally ruins the Dunder Mifflin company picnic by telling the employees of its Buffalo branch that they're about to get laid off. Something similar happened with Vice Media on Friday.
According to Variety, the Brooklyn-based company laid off 60 employees across departments, including sales, branded content, and editorial. Also on Friday, Vice had a field day in McCarren Park. Gizmodo reports that the Williamsburg park filled with employees in red and blue shirts and Instagram reveals what they were up to.
But while some Vice employees were hula-hooping and tugging on a big rope, others were tweeting about their impending unemployment.
News of the layoffs may come as a surprise, considering Vice just took in $450 million in funding from a private equity. But these changes are less a matter of scaling back than of shifting focus. Properties such as Thump, a electronic music site, will be no more. Meanwhile, Vice Sports will still be around, but with fewer editors and more videos. Like the layoffs at MTV News and Fox Sports, Vice's come with the intention of pivoting to video.