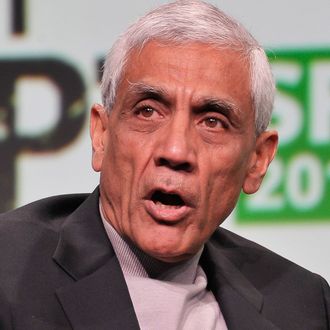 Vinod Khosla.
Photo: Steve Jennings/Getty Images for TechCrunch
If you ask any number of women who have worked in the biz, they'll tell you venture capital has a sexual-harassment problem. But Vinod Khosla, co-founder of Sun Microsystems turned venture capitalist and vocal supporter of Peter Thiel's war against Gawker, says it's actually not that big of a deal. Speaking in Palo Alto on Thursday night, Khosla told the audience, as reported by Recode, "I did not know that there was any discrimination," and said the problem was "rarer than in most other businesses." Because that's 100 percent how problems work: If you don't see them, they don't actually exist.
Though we don't have a full transcript from the event, it's likely Khosla was speaking in response to the recent wave of sexual-harassment accusations plaguing the VC world. (Not to mention Silicon Valley's larger, ongoing problem with harassment and discrimination.) Binary Capital co-founder Justin Caldbeck is on indefinite leave following accusations of sexual harassment, and the firm is being sued by a former employee, Ann Lai, for harassment and defamation. Chris Sacca, VC turned Shark Tank host — picture the dude in the cowboy attire — recently posted a lengthy apology on Medium, promising to do better by his female peers and stop contributing to VC's toxic culture. The apology seemed fine, if odd, until 24 hours later, when the New York Times published a story highlighting anecdotes from multiple women calling out their discriminatory experiences in VC. Sacca told the Times that he disputed claims from a female entrepreneur and investor, Susan Wu, that he "touched her face without her consent in a way that made her uncomfortable" at an event in 2009. Over at 500 Startups, co-founder Dave McClure's role has been significantly reduced following allegations levied against him, also by the Times. "I was getting confused figuring out whether to hire you or hit on you," McClure reportedly Facebook-messaged a female job candidate.
Meanwhile, back at the ranch in Palo Alto, Vinod Khosla claimed the industry's sexual-harassment problem isn't, well, real. "It's a reality because it's perceived as a reality, and perception is more important than reality," Khosla said, noting he's never conducted any formal surveys or research into the matter. Khosla also said it was "his 'impression' that the problem was not quite as prevalent as a percentage as it is in other industries, such as autos or finance," Recode reports. (Congrats to all you lady bankers and car engineers, you now have permission, from a man, to gripe about the dudes you work with!) On Twitter, several women in the industry called him out. Christine Herron, managing director of Intel Capital, attributed the smaller number of harassment complaints to a smaller number of people, and women, who work in VC. She also noted there is currently no one formally tracking these issues. Ellen Pao also weighed in. "Concentration of power means retaliation is a powerful threat," Pao tweeted.
She would know. Chris Sacca's apology letter earlier this summer noted that while he "believed in the merits" of Pao's failed discrimination suit against Kleiner Perkins, he didn't publicly support her "for fear of retribution from one of the industry's most powerful VC firms." And if one of the top white men in the industry is scared to speak, imagine how afraid anybody who isn't white and male must feel.