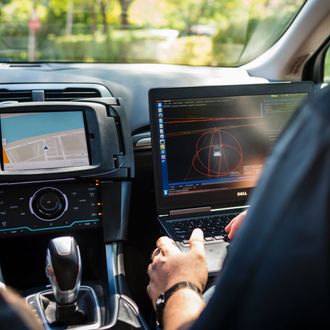 Photo: Angelo Merendino/AFP/Getty Images
The ongoing lawsuit between Alphabet's Waymo and Uber over the alleged theft of trade secrets by engineer Anthony Levandowski took a turn today. As first reported by Bloomberg, Waymo is dropping three out of the four accusations of patent infringement against Uber.
In a statement, Uber said this was proof that Waymo's case was spurious:
Waymo's retreat on three of their four patent claims is yet another sign that they have overpromised and can't deliver. Not only have they uncovered zero evidence of any of the 14,000 files in question coming to Uber, they now admit that Uber's LiDAR design is actually very different than theirs. Faced with this hard truth, Waymo has resorted to floating conspiracy theories not rooted in fact, doing everything they can to put the focus on sensation rather than substance.
Waymo, meanwhile, said it withdrew the three patents because they were used in LiDAR technology Uber had abandoned. (LiDAR, a type of radar that uses lasers to provide a 360-degree view of what's happening around a self-driving car, is a key component in both Uber and Waymo's autonomous vehicles.) Waymo maintains that by narrowing its case down to just one piece of patent infringement, it is actually strengthening its case:
Uber has assured the court in statements made under penalty of perjury that it no longer uses and will not use that device, so we have narrowed the issues for trial by dismissing the patent claims as to that device, with the right to re-file suit if needed. We look forward to trial.
It should be noted that patent infringement isn't the key focus of this lawsuit, but rather trade secrets that Anthony Levandowski allegedly stole from Waymo. In early June, Judge William Alsup strongly advised Waymo to consider dropping its patent claims altogether.
The case, set for trial in October, will likely hinge on how much Uber knew about Levandowski's alleged theft of trade secrets. Uber, which fired Levandowski in late May, acquired the autonomous trucking firm Otto that Levandowski had founded after leaving Waymo, but maintains it did not know he allegedly downloaded a trove of data files from Waymo servers shortly before his departure. Levandowski, meanwhile, has repeatedly pled the fifth throughout the lawsuit, and may face criminal charges down the line.