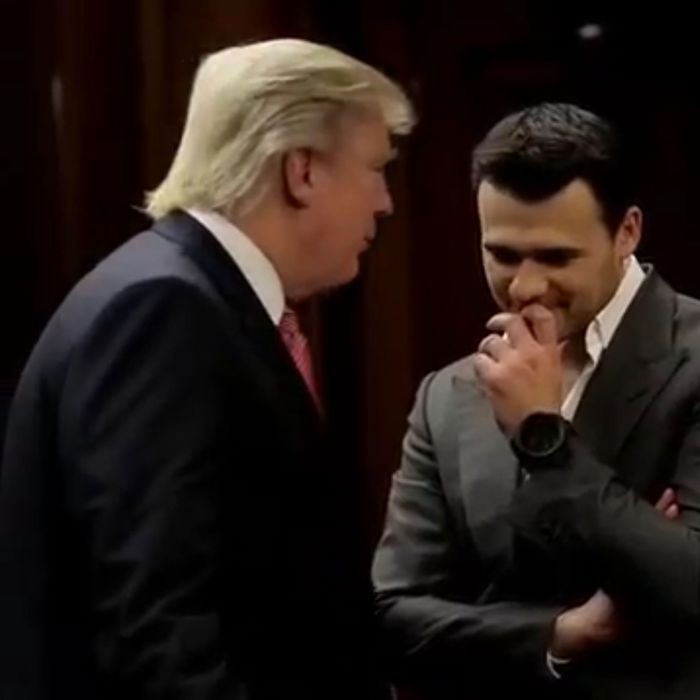 As controversy around Donald Trump Jr.'s meeting with a Kremlin-linked lawyer continues to plague the White House, the Trumps' relationship with the Agalarov family is coming under more scrutiny. Emin Agalarov and his father, an Azerbaijani-Russian oligarch and Putin ally, helped host Donald Trump's Miss Universe Pageant in Moscow in 2013 — and the son reached out to Trump Jr., through publicist Rob Goldstone, to set up the June 2016 gathering now in the headlines.
Over the past couple of days, both CNN and NBC News have aired videos they obtained of the Agalarovs and Trumps schmoozing in Las Vegas and Moscow.
But a video sent to Daily Intelligencer by a source close to the Agalarov family shows a more intimate interaction between Trump and Emin, a pop singer.
This video was filmed in 2013 when Trump was in Moscow for the pageant. While there, he appeared in one of Emin's music videos. This clip is apparently a behind-the-scenes moment — Trump and Agalarov are wearing the same outfits that they wear in the music video.
Background noise makes it difficult to hear what Trump and Agalarov are talking about, but at least one exchange can be heard clearly:
Agalarov: "She is open?"




Trump: "She's totally open. She's totally open."
Perhaps just an innocuous behind-the-scenes moment — but now another data point about what is suddenly one of the most closely studied relationships in the world.
Follow Yashar — or send him a tip — on Twitter: @yashar