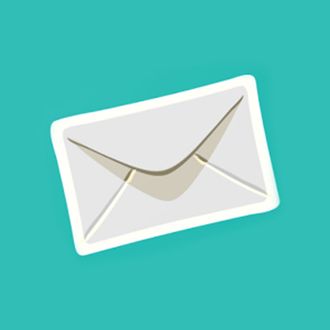 If you're over the age of 18 and have recently browsed the "top downloads" chart on Apple's App Store, you might find yourself wondering what the hell "Sarahah" is, and how it became the most popular app on the iPhone. The anonymous-commentary app launched in February; loosely translated, its name means "honesty" in Arabic. The app, theoretically, does what it says on the tin: It allows users to submit honest comments, questions, and critiques to their peers. How do you know they're honest? Because the comments are submitted anonymously. You can guess where this is headed.
"People find their friends' profiles and leave comments and questions either with their profile or anonymously," Kenny, an 11th-grader from West Virginia told me about the app. "It seems like a way for teens to continue the drama and say things about people without revealing their identity, which is a whole lot like the app Ask.fm from a while ago that everyone used to use for the exact same reason." Sarahah's creator, Saudi Arabian developer Zain al-Abidin Tawfiq, said he initially built the app so people could give anonymous feedback in the workplace without fear of retribution from their bosses. The "lack of fear of consequences" bit stuck, though the app seems to have found its niche among high schoolers loafing around on summer vacation, rather than office workers looking for an outlet.
As a category, the anonymous-commenting service has a relatively long and definitely checkered history. During my senior year of high school, an anonymous Q&A website called Formspring.me invaded my school's social life. Thanks to Formspring, people could anonymously submit questions to any of their peers who also had accounts. Answers were public, and the questions, unsurprisingly, were often vulgar and harassing.
Formspring became a hotbed for cyberbullying and would ultimately shutter several years later. But the general idea — asking strangers to give their good, bad, and downright nasty opinions about you — has never died, and, so long as people are insecure and cruel, probably never will. In the years that followed, anonymous Q&A and gossip apps like Ask.fm, the late Yik Yak, and more recently, CuriousCat.me, have all found audiences — and, often, schoolwide scandals.
To use Sarahah, or, rather, to use it like a teen, you also need to have a Snapchat account. After setting up a Sarahah account through Sarahah's website, you're given a custom link you can give to people who want to send you comments. This is where Snapchat comes in — it's a Sarahah distribution platform. Kids will embed their Sarahah link into a snap in their Snap Story — in layman's terms, they'll post the link where all their Snapchat followers can access it — where friends, or anybody if their account is public, can click it and anonymously comment. (Snap, which only recently began allowing links in Stories, did not respond to Select All's request for comment regarding Sarahah.)
The next step, of course, is to screenshot all the complimentary comments you've received — or all the cruel ones — and upload those images to your Snap Story as a humble brag. (Comments are only visible to the recipient unless they choose to share.) "A lot of people are screenshotting the anonymous messages and putting them on their Snapchat Story for everyone to see," said June, a 17-year-old from Ohio. "The messages are usually either really nice or really mean."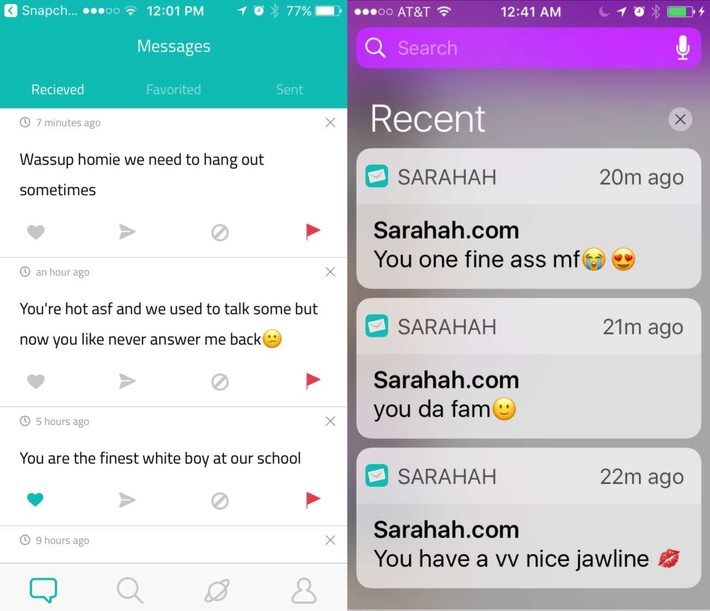 "Honestly, I've only gotten good messages," said Sam, a high-school student from North Carolina. "It seems that more girls are getting kinda bullied because guys are commenting sexual stuff. I've seen a few girls getting called 'hoes.'" "I've used it a couple times to see what it's all about," June also told Select All, noting she'd received both positive and negative comments. "For me, the good outweighs the bad, but I know for other people, they are getting some pretty mean comments," she said. "I don't feel comfortable saying some of the stuff because the mean ones have vulgar language, and the nice ones are kinda personal."
Despite the potential for bullying, and the actual bullying happening, on the app, the teens who talked to Select All didn't seem too concerned. (Their parents, however, seem to feel markedly different. "My son signed up for an account, and within 24 hours someone posted a horrible racist comment on his page, including saying that he should be lynched," reads one review of the app. "The site is a breeding ground for hate.") "[I've seen] a lot of inappropriate stuff," said Travis, 18, from Michigan. "Nobody has been too hurt over what has been said that I've seen so far." When asked why he thinks people flock to apps like Sarahah, his answer was simple. "My guess is they like the attention and drama." "Everyone's into drama and making people feel bad to make themselves feel better," Kenny said, echoing Travis. "It's what teens do. Not necessarily me, but teens in general."
Like its predecessor Formspring.me — though these kids are, gasp, possibly too young to even remember Formspring.me — multiple teens told Select All they don't think Sarahah is long for this world. "I don't think it'll last very long," Sam said. "People will probably start to see it going negatively and getting old soon." "It may be [a problem for school administrators and teachers]," Kenny explained. "School starts soon, so it [the app] may stay [popular]." Though teachers likely needn't concern themselves with Sarahah. Ask.fm is still in business — "it [Ask.fm] kind of died out when Sarahah came out" — but with the rise of Sarahah, it's become a thing of the past. Chances are good, by September, the teens will be all over some new anonymous-gossip app. And that's the one teachers and parents should probably start worrying about.