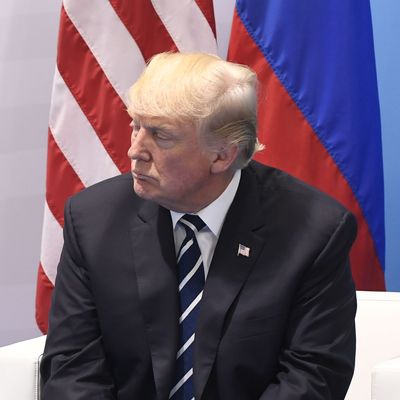 Awkward.
Photo: Saul Loeb/AFP/Getty Images
President Trump will indeed sign a bipartisan bill imposing Trump-proof sanctions on Russia, the White House press secretary's office announced on Friday night. That legislation was passed almost unanimously by the House and Senate this past week, meaning the bill would likely have survived a presidential veto — which seemed like a real possibility up until now. The White House originally opposed the bill, and its statement on Friday followed a week of mixed signals about whether Trump would sign or veto the legislation. Just one day earlier, new White House Communications Director Anthony Scaramucci told CNN that Trump "may sign the sanctions exactly the way they are, or he may veto the sanctions and negotiate an even tougher deal against the Russians."
The new bill imposes sanctions on Russia for its interference in last year's U.S. presidential election. The White House originally opposed the sanctions package, which also targets Iran and North Korea over their ballistic-missile programs, because the legislation includes a congressional-review requirement. What that means is that Congress will have the power to review and block any changes that Trump or any other president might make to these sanctions in the future. Any presidential administration would resist such an attempt to limit its foreign-policy power, but the Trump administration is in a particularly tight spot since it hasn't done anything in response to the Russian attack on the U.S. election system or anything to prevent such attacks in the future.
Of course, Trump is also facing an ongoing investigation into his campaign's possible links to the Russian interference. As a result, the president has repeatedly sought to cast doubt on whether or not Russia meddled at all, thus attempting to single-handedly refute, without evidence, the conclusions of U.S. intelligence agencies. When he has seemed to acknowledge the interference, it has typically only been in such a way as to profess his campaign's innocence or victimhood:
Also on Friday, Russia retaliated against the new sanctions even before the White House confirmed that Trump would sign them into law. The Kremlin closed two U.S.-owned properties used by American diplomats and ordered the U.S. Embassy in Moscow to reduce its staff.
It's not clear if the president was allowed any input into the sanctions legislation. According to the White House, Trump "read early drafts of the bill and negotiated regarding critical elements of it" and "has now reviewed the final version and, based on its responsiveness to his negotiations, approves the bill and intends to sign." In fact, it's more likely the White House had next to no involvement in changes to the bill and didn't get anything they wanted. In reality, Congress effectively boxed Trump in, and he now has no choice but to sign the bill. If he didn't, not only would Trump look even more friendly toward the Kremlin than he already does, but the first major legislation of his presidency, after more than six months, would be a law which was put in place without him.