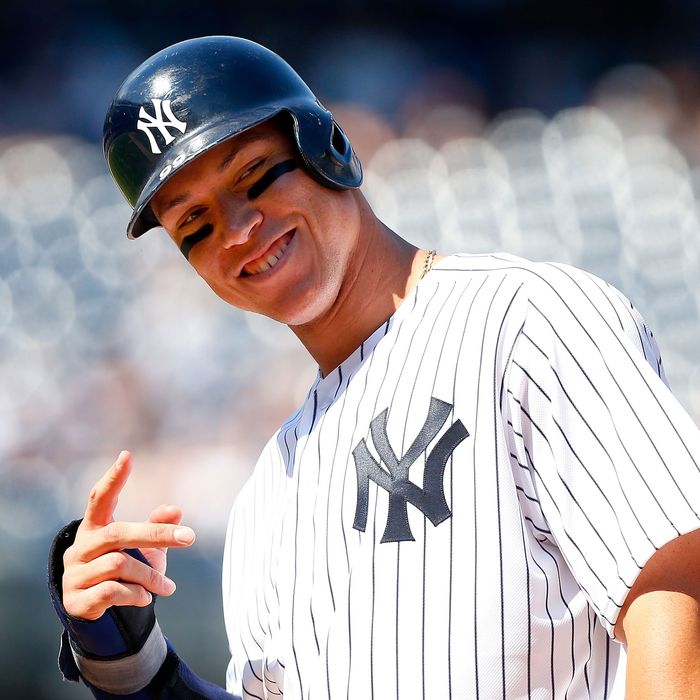 Judgment day.
Photo: Jim McIsaac/Getty Images
At six-seven and nearly 300 pounds, Yankees right-fielder Aaron Judge makes a baseball bat look like a pencil, and last season, in his first stint in the Majors, he hit as if he was swinging a sharpened Ticonderoga. In 84 at-bats, he racked up only 15 hits and struck out exactly half the time before his season ended with an oblique injury.
For a guy expected to occupy the middle of the order for the next decade, it was a debut to forget. And now, halfway through the 2017 season, it has been forgotten.
That's what a league-leading 30 home runs at the All-Star break will get you. On Friday, when he hit his 30th homer, Judge broke Joe Dimaggio's record for home runs by a Yankee rookie. With 76 games left in the regular season, he's 19 shy of Mark McGwire's all-time rookie record and even though baseball fans roll their eyes at any mention of "pace," it's worth noting that he's on pace to break that record by eight bombs. And given the way that balls are flying out of stadiums these days, the once-unattainable goal of 60 homers is within reach.
But it's not only the quantity of home runs that's got people ruling in favor of Judge, it's the brute force he summons to hit them. Want to understand this 25-year-old's appeal? Forget all the numbers above and consider this one: 496. That's the distance, in feet, of Judge's longest home run of the season, which he blasted over the bleachers in left-center field at Yankee Stadium last month against the Orioles.
The last home run to fly that far was hit in the thin air of Denver by Miami Marlins right-fielder Giancarlo Stanton. MLB's Statcast put it at 504 feet.
Tonight, Stanton and Judge are the headliners at MLB's Home Run Derby and it's hard to imagine baseball fans rooting for anything but a final round of these two giants shooting lightning bolts off of their bats. If ever there were men built to battle in a ball-bashing contest, these are them.
It's been a long time since the Yankees had a player like Judge. The last guy who ranked among baseball's most exciting hitters was Alex Rodriguez during his MVP season in 2007. But that came with all the baggage associated with A-Rod. In Judge, the Yankees have a homegrown superstar who they're already counting on to not just hit bombs, but to sell tickets. That's a big load for a rookie to shoulder, but Judge is a big guy, and so far, he seems like he can handle it.