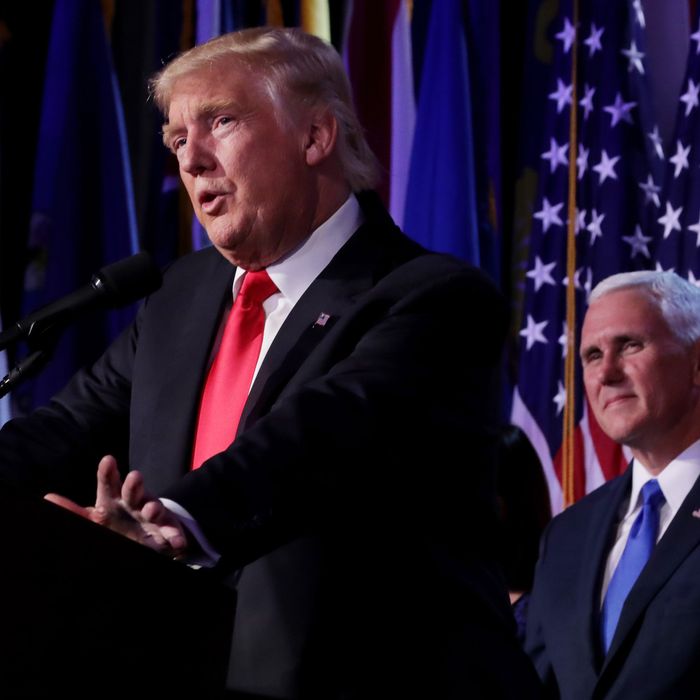 I guarantee you there's no problem with the shoulders.
Photo: Chip Somodevilla/Getty Images
Many foreign-policy specialists have raised questions about Donald Trump's knowledge of world affairs. But these foreign-affairs experts, like most experts, tend to be dweebs trapped by their excessively complex and precious models. Mike Pence has a different view of how foreign affairs works — a simpler, more rugged view, with distinct homoerotic overtones. As Pence once explained, Ronald Reagan's "broad-shouldered leadership inspired my life." Pence's shoulder-width-based model of foreign-policy-making has guided him throughout his career. And it has given him confidence that Donald Trump is endowed with sufficient collarbone spacing to ensure a successful tenure on the world stage.
July 15, 2016: "Donald Trump is going to provide the kind of broad-shouldered American leadership on the world stage that I think will make the world a more stable place."
July 17, 2016: "One of the reasons why I said yes in a heartbeat to run with this man, is because he embodies American strength, and I know that he will provide that kind of broad-shouldered American strength on the global stage as well."
July 29, 2016: "To be around Donald Trump is to be around a man with broad shoulders …"
August 14, 2016: "He's a man with broad shoulders, he's got a clear vision, he's strong."
August 14, 2016: "I think you're going to be ready, Chris, for a vision, but also for real specifics about how new leadership in the White House, a change of direction in the White House and the kind of broad-shouldered leadership that Donald Trump will bring is going to make our country more safe."
August 28, 2016: "As I am traveling all over the country, people are coming up to me. They are responding to Donald Trump's broad-shouldered, plainspoken leadership that we can make America great again, we can be strong on the world stage, we can have an economy that works for every American."
August 31, 2016: "I think it shows the kind of broad-shouldered leader he is. He's willing to sit down with whom he may have strong differences of opinion to look for things we can work on together and begin the process of discussions."
September 23, 2016: "Well, I said today at — at the church gathering where we were before, this is a broad-shouldered leader, but he's also a man that's impatient with failure."
Sept 26, 2016: "Look, Donald Trump's got broad shoulders. He's able to make his case and make a point."
October 4, 2016: "We have got to lean into this with strong, broad-shouldered, American leadership."
December 4, 2016: "— with broad shoulders, who's going to advance America's interest. But he's also going to be engaging the world on behalf of America."
December 4, 2016: "And I think the American people want — are encouraged, rather, George, to see that President-elect Trump is — is taking calls from the world, speaking to the world. They know he's going to be out there advancing America's interests first with that broad-shouldered leadership that's characterized his entire life."
January 27, 2017: "Our President is a man with broad shoulders and a big heart."
March 1, 2017: "What the American people saw is the president I serve with every day — broad shoulders, a big heart."
March 19, 2017: Trump "has broad shoulders, but he's a got a big heart."
August 15, 2017: Trump "brought the kind of broad-shouldered leadership to the world stage" [that was lacking in previous presidents with presumably narrower shoulders.]
August 22, 2017: "Criticism comes with this job, and this president has the kind of broad shoulders to be able to take it."
Britina Cheng assisted with research.