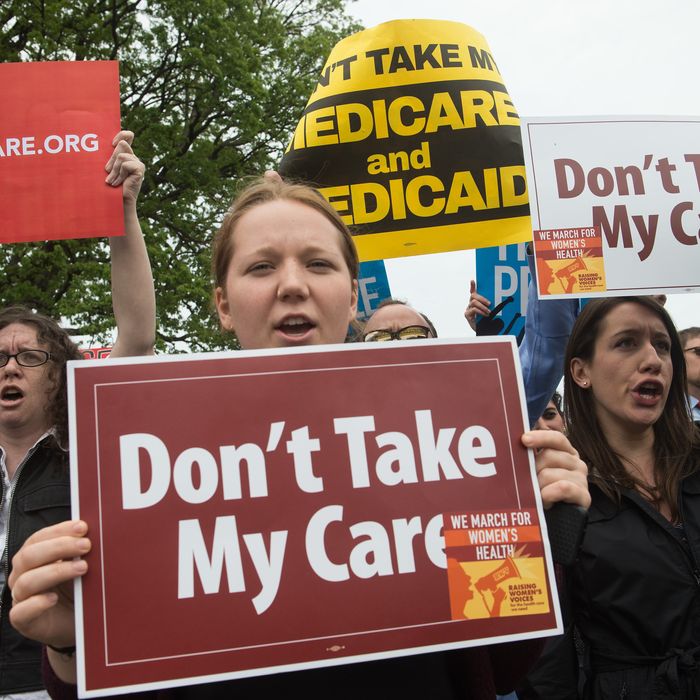 Repeal and replace failed, but it still took a toll on Obamacare.
Photo: NICHOLAS KAMM/AFP/Getty Images
The Republicans' seven-year crusade to repeal Obamacare has entered a new phase: the search for someone to blame for its failure. Last month three GOP defections stopped the push to pass legislation that would have gutted the Affordable Care Act and tossed tens of millions off their health insurance (for now, at least). But as President Trump and Senate Majority Leader Mitch McConnell traded barbs on Wednesday, millions of Americans on the Obamacare exchanges are still unsure of what options they'll have when the 2018 open enrollment period start on November 1.
This isn't because Obamacare is "imploding" as Trump claims. Several independent private-sector analysts have concluded that the exchanges are not in a death spiral, and the Trump administration has actually admitted this. The problems largely stem from uncertainty created by the Trump administration's threats to sabotage the exchanges, and Congress's failure to shore up the marketplaces.
While Congress has likely abandoned its ACA repeal push to pursue tax reform and daunting fiscal issues, Sunday on ABC's This Week, Health and Human Services Secretary Tom Price said he's still open to using his regulatory authority to waive the individual mandate. The insurance industry trade group America's Health Insurance Plans blasted that idea when it was part of the Senate's "skinny repeal" plan, telling Congress, "Policies that do not stabilize the market and simply drop incentives for people to buy coverage will repeat what we have seen in the past: premiums will rise rapidly, few or no affordable coverage options will be available and more people will be uninsured."
The other major concern is that President Trump will make good on his threats to stop paying cost-sharing reductions, the subsidies to insurers that offset the cost of covering low-income Obamacare enrollees. Congress could take this weapon away from Trump by appropriating money for CSR payments, and there's talk of a bipartisan health care bill that would do just that.
The problem is efforts to stabilize the marketplace may come too late. Members of Congress left town for their August recess without settling on a bipartisan Obamacare fix. Even if they manage to pass that plan during the incredibly busy month of September, they'll have left insurers guessing about their intentions during a critical period. In the 39 states that use the federal marketplace, insurers must submit their revised premium requests by August 16. Trump could refuse to pay when the next round of CSR payments is due on August 21 (or again on September 20). Then on September 27 insurers must make their final decision on whether to sell Obamacare plans. (Vox notes they'd still have an opportunity to pull out if the Trump administration sabotages Obamacare between September 27 and the start of open enrollment on November 1.)
Here's a closer look at the problems facing those who hope to buy insurance on the individual market next year.
Lack of Choice in Health Insurance Markets
Competition among insurers was a central idea of the Affordable Care Act, and the Kaiser Family Foundation found that, on average, competition has been relatively stable. In 2014 there were an average of five insurers in each state's marketplace, and in 2016 that number was 5.6. But there's always beens significant variation, with rural areas often struggling to attract insurers.
This year a number of insurers dropped out of the market, and the average number of insurers per state dropped to 4.3. Of the 12.2 million people who signed up for Obamacare in 2017, 58 percent had a choice of three or more insurers, compared to 85 percent a year earlier.
In 2018, 51 percent of enrollees are on track to have a choice of three or more insurers, according to a Bloomberg News analysis. If the numbers hold, 27 percent of enrollees will live in a county with two options, and 22 percent will have only one choice.
There's been much concern about the 0.09 percent of enrollees at risk of having no insurer in their county's exchange. This affects just under 10,000 enrollees who live in 17 counties (14 of the "bare" counties are in Nevada, and the rest are in Indiana, Ohio, and Wisconsin).
The insurers offered a variety of reasons for why they're reducing their Obamacare offerings, or dropping out entirely. For example Aetna — which has been scaling back its participation since 2016 and won't be in any state exchanges next year — said it was losing too much money (though some suspect it was getting revenge on the Obama administration for blocking its merger with Humana).
A number of insurers have specifically cited the chaos in D.C. as one of the reasons they're dropping out of the exchanges. "The Individual market remains volatile and the lack of certainty of funding for cost sharing reduction subsidies, the restoration of taxes on fully insured coverage and, an increasing lack of overall predictability simply does not provide a sustainable path forward to provide affordable plan choices for consumers," said Anthem spokesman Jeff Blunt after the company pulled out of Ohio's exchange.
State insurance commissioners have been scrambling to keep insurers from pulling out, and trying to woo them back to "bare counties." The Hill reports they're offering the companies previously unheard of flexibility, like BlueCross BlueShield of Tennessee's option to pull out "in the event of any post-bid changes that destabilize the market."
"Right now the number of counties at immediate risk of having no insurers in 2018 is small, but it could easily grow significantly if a couple major insurers decide to exit," Kaiser health economist Larry Levitt told Reuters.
For most people on the exchanges, the bigger concern is that they'll have access to insurance but they won't be able to afford it. Heading into 2017, premiums rose by an average of 25 percent among the states using the federal exchange. A study released by the health consulting firm Avalere in June found that premiums will be an average of 18 percent higher for silver plans in 2018.
Last year's premium hike was partly due to mechanisms built into the law, but the lack of clarity on Obamacare's future is driving increases for 2018. In June the actuarial firm Oliver Wyman projected that up to two thirds of 2018 rate increases could be attributed to "the uncertainty surrounding continued funding of cost sharing reduction (CSR) payments and the question of how the relaxation of the individual mandate will impact enrollment and risk pools."
Once again, insurers across the country have offered a variety of reasons for the rate hikes. But they've also been clear about the effect activities in Washington have on their ability to set prices. Pennsylvania's insurance commissioner said insurers in his state asked for an average increase of 8.8 percent next year, assuming CSR payments continue and the individual mandate stays in place. When he asked for a second request figuring in Republican efforts to destroy Obamacare, they asked for a 36.3 percent increase.
An analysis released Thursday by the Kaiser Family Foundation found that's typical:
Insurers assuming the individual mandate will not be enforced have factored in to their rate increases an additional 1.2% to 20%. Those assuming cost-sharing subsidy payments will not continue and factoring this into their initial rate requests have applied an additional rate increase ranging from 2% to 23%.
"In many cases that means insurers are adding double-digit premium increases on top of what they otherwise would have requested," said Cynthia Cox, the report's co-author. "In many cases, what we are seeing is an additional increase due to the political uncertainty."
By the time Obamacare was "saved" last month, the GOP's "excessive expectations" about their ability to repeal the ACA, as McConnell put it, had already started hurting people who rely on the exchanges.