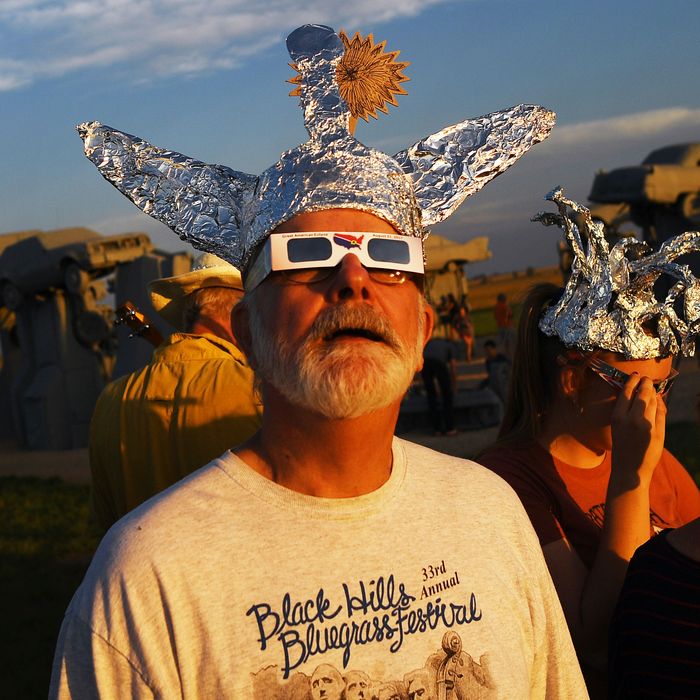 Hank Fridell, of Custer, South Dakota, tests out his eclipse glasses and his foil hat while visiting Carhenge with a group of friends on August 20, 2017, in Alliance, Nebraska.
Photo: RJ Sangosti/Denver Post via Getty Images
Summer's most anticipated (roughly) two minutes are almost here. Starting at approximately 10 a.m. Pacific Time, a total solar eclipse will travel the United States from coast to coast, wrapping up shortly before 3 p.m. on the East Coast. Those in the path of totality — a 70-mile-wide southward arc from Salem, Oregon, through Charleston, South Carolina — will see the moon totally blot out the sun, an experience one eclipse chaser described as "like looking upon the eye of God." But even those in North America outside of that path of totality will get a pretty decent show. In New York, stargazers will be treated to about 70 percent sun coverage when the eclipse peaks at about 2:44 p.m. — provided you've managed to get your hands on those NASA-approved glasses, or are crafty with a cereal box. Here are some other last-minute details you need to prepare for the astronomical event of the century.
I wasn't paying attention in middle-school science. Remind me what a solar eclipse is again?
A solar eclipse happens when the moon passes directly between the sun and planet Earth, which can either partially or — as is happening in certain parts of the country — totally blocking out the sun, and its daylight. The total eclipse will likely last for less than two minutes. Carbondale, in southern Illinois, will get the longest blackout: two minutes and 38 seconds.
Why are people so obsessed with this solar eclipse?
The last time a total solar eclipse traveled North America from coast to coast the United States was still fighting World War I.
Besides that June 1918 eclipse, the last total solar eclipse visible in parts of the U.S. — just the Pacific Northwest — occurred on February 26, 1979. So, it's been a while.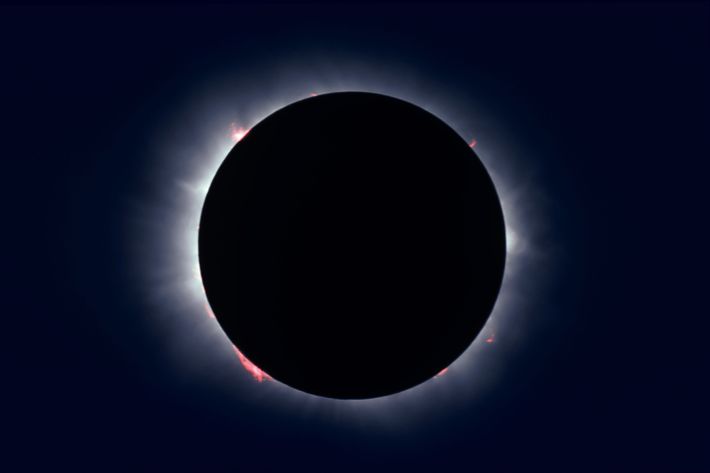 Awesome! So what am I going to see in my neighborhood?
That path of totality — again, meaning the moon will block out the sun — is about a 70-mile-wide path that stretches from the Pacific Northwest down to South Carolina. Some big population centers are in its path, including Salem, Oregon; Casper, Wyoming; Kansas City, Kansas; St. Louis, Missouri; Nashville, Tennessee; and Charleston, South Carolina. There are plenty of small towns in the eclipse's path that are also cashing in, and traffic is supposed to be a nightmare.
The closer you are to that path of totality, the more dramatic the partial eclipse. Most of the lower 48 will get to see around 75 percent, which isn't too shabby. In New York, the show begins right before 1:30 p.m. Peak viewing arrives around 2:45 p.m., with the sun about 70 percent obscured. The phenomenon will wrap up by about 4 p.m. Those within the 80 percent range of totality will see the skies darken a bit, but only in the path of totality will light be completely blocked. In New York, you might confuse the eclipse with some heavy cloud cover.
Of course, no matter where you are, hope that the weather cooperates. Cloud cover threatens to reduce visibility in the central U.S., and a chance of thunderstorms threatens the sweet views near Charleston, South Carolina.
I didn't get those glasses. Will I go blind if I look at this thing?
Those eclipse-viewing glasses are more than the hottest fashion accessory. You've heard it before, but here it is again: Do not look directly at the sun during a solar eclipse. As the Washington Post explains, looking with unguarded eyes could cause a condition called solar retinopathy, which could cause irreversible sun damage to the retina, which can diminish or distort vision permanently.
Any place that might have those glasses lying around?
It's probably too late to buy them from a store, and if you find any lying around make sure they're legit. Regular sunglasses will not cut it. Plenty of people are gathering for watch parties, and some of those sites at museums and other locales may give them out for free. (Here's NASA's list, and DNAinfo has a guide to some spots in New York.)
There are some DIY ways to safely view the eclipse, including turning your Cheerios box into a pinhole viewer.
But surely I can Instagram this thing?
This total eclipse is shaping up to be the most-photographed event in history. You're going to want to protect your camera with a special solar filter. If you have eclipse glasses, you can put those over your camera lens (just don't look at the sun while you're doing this). Here're some other photo tips from NASA, though experts also suggest maybe putting down the camera and simply letting yourself be in awe at the rare wonders of the universe.
I give up. I'm not prepared, and don't trust my cereal-box-pinhole thingy.
Well, you probably won't have to wait a century for the next total solar eclipse. Another is expected to pass over North America on April 8, 2024. Its path will extend from Texas to Maine, with cities like Dallas, Texas, and Buffalo, New York, in the path of totality.
This post has been updated throughout.