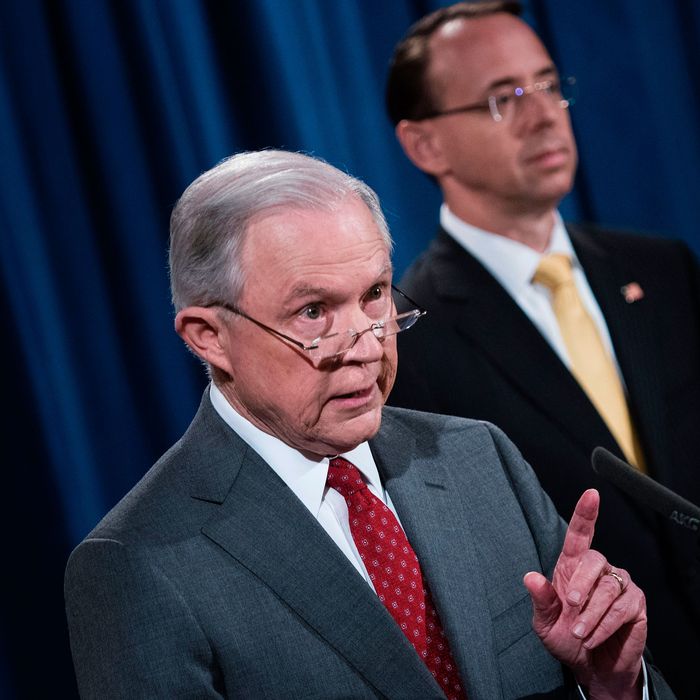 No longer "VERY weak" on leakers?
Photo: Brendan Smialowski/AFP/Getty Images
Jeff Sessions may have found a way to get back on his boss's good side. The attorney general, whom Trump had criticized as taking a "VERY weak position… on Intel leakers!", is now ready to crack down on them. Sessions announced Friday that the Department of Justice has tripled the number of investigations into disclosures of classified information compared to the end of Obama administration — which was not exactly easy on leakers.
Prosecuting leakers is now a law-enforcement priority, Sessions said, explaining that the Justice Department would devote more resources to tackle these cases and that the FBI would create a new counterintelligence unit to facilitate investigations. No members of the FBI joined Sessions in his announcement; he was instead flanked by Rod Rosenstein, his deputy who's overseeing the Russia probe, and Director of National Intelligence Dan Coats.
"I have this warning for would-be leakers: Don't do it," Sessions said. "I strongly agree with the president and condemn in the strongest terms the staggering number of leaks."
Sessions also appeared to put journalists on notice in the clampdown against unlawful leaks. At the suggestion of law-enforcement investigators and prosecutors, he said, the DOJ is "reviewing policies affecting media subpoenas."
"We respect the important role that the press plays, and will give them respect, but it is not unlimited," Sessions said. "They cannot place lives at risk with impunity. We must balance the press's role with protecting our national security." Sessions did not go into specifics, and, at the end of the press conference, ignored a question shouted by a reporter as to whether he would prosecute journalists.
Sessions did make reference to the Washington Post's publication of transcripts of phone calls Trump had separately with the Australian prime minister Malcolm Turnbull and Mexican president Enrique Peña Nieto, but did not say whether it rose to the level of a criminal investigation. He also threw out the stat that four people, so far, have been charged with leaking classified information or concealing contacts with foreign intelligence officers. He didn't give specifics there either, though at least one might be Reality Winner, the 25-year-old government contractor who allegedly leaked documents about a Russian cyberattack on a vendor that supplied technology for U.S. voting systems.