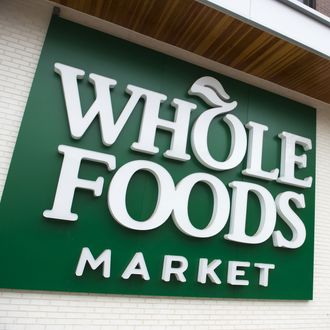 Photo: Saul Loeb/AFP/Getty Images
In Amazon's first official day running Whole Foods, the online giant slashed some food prices. (Amazon acquired Whole Foods earlier this summer for $13.7 billion.) In the grocery chain's store on 57th Street in Manhattan, Bloomberg reports cost cuts up to 43 percent. Almond butter went from $7.99 to $6.99 a jar. Organic Fuji apples went from $3.49 to $1.99 per pound. Organic rotisserie chickens went from $13.99 to $9.99 each. A dozen organic eggs now cost $3.99 instead of $4.29. The list goes on and also includes organic avocados, butter, salmon, and tilapia.
While the new price cuts aren't about to lose Whole Foods its "Whole Paycheck" moniker anytime soon, they make the cost of shopping there a bit — and only a very little bit — less prohibitive. In addition to lowering prices on foodstuffs, Amazon seems to be running another sale, the "pick of the season," at its new grocery chain. As noted by several people on Twitter, Whole Foods is now selling slightly discounted Amazon Echos and Echo Dots.
Mmm, love that "farm fresh" robot taste.