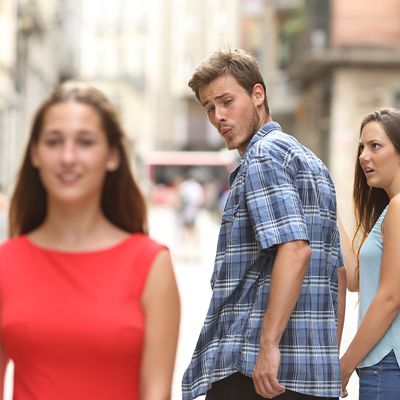 Photo: Antonio Guillem/Getty Images/iStockphoto
The internet has a long history of making memes out of contextless stock photos, but the fad reached new heights last week thanks to the work of Antonio Guillem. A prolific stock photographer from Barcelona, Guillem's work quickly became a source of obsession after the photo above, featuring a bizarre love triangle, became a metaphor for, as most memes do, pretty much anything.
But after tracking down the source of the photo, users quickly discovered that the same models appear in Guillem's work over and over again, giving the entire body of work a sprawling, narrative feel not unlike a decades-long soap opera, or the tangential intersections of the Marvel Cinematic Universe.
Overwhelmed by inquiries, Guillem sent one long statement out to reporters about the situation (as a heads-up, English is not his first language). "I've been working 16 hours a day on the advertisement photography business for 5 years now," he wrote. "We started without having any kind of idea of this business and I didn't even know a thing about photography," though he no longer considers himself or his team amateurs. His operation usually sells more than 1,600 photos a day.
"I never thought that one of my images will be that popular," he continued. "I didn't even know what a meme is until recently, when the models started to tell me about the memes that people were doing with our work." The photo that started it all is sold roughly 700 times each year, though his most popular photos sell seven or eight times that.
Guillem isn't worried about sales, however, even though the photo is being shared all over social media by users who haven't purchased it. "The sales that are related with the memes are probably a 0.00000% of our monthly revenue. It's not relevant," he said. The memers "are just a group of people doing it in good faith, and we are not going to take any action, except for the extreme cases in which this good faith doesn't exist."
He was, however, worried about the photo being used in a pejorative or offensive way, which he denounced. "I'm talking, for example, about the image where their faces are changed by a dog face, a garbage bag, and a dog food bag." He doesn't want the memes to reflect poorly on himself or the models.
The viral photo was taken "in mid-2015 in Gerona (Catalonia, Spain) and because we were having a great sales response to our work, we decided to take a few risks planning a session representing the infidelity concept in relationships in a playful and fun way."
"The setting was completely improvised as we didn't have time to search for it. As I always work with the same models, it was quite easy to create the situation even though it was quite challenging to achieve face expressions that were believable. Mainly, because we always have a really great work atmosphere and almost all the time one of the models was laughing while we were trying to take the picture."
Guillem identified two of the models in the photo as Mario and Laura, though he declined to name the other woman because "we stopped working together around a year ago." Laura and Mario, however, he exalted at length.
"Laura started working with me 5 years ago and Mario 4 years ago and I care about them as they were my kids," Guillem said. "They know that we count on me for anything and the same about them. They work exclusively for me and they are as great people as their work is."
"I can't ask for anything else," he wrote. "We have complete trust and confidence in each other."
Guillem's statement, which he requested be published unedited in full, is below.
I'm a professional advertising photographer for microstock agencies. I'm from Barcelona (Spain), I'm 45 years old and I've been working 16 hours a day on the advertisement photography business for 5 years now. We started without having any kind of idea of this business and I didn't even know a thing about photography.




We are not amateurs, and nowadays, even though we can be anonymous, we are one of the top sellers microstock photographers in the world (3 years and a half after we started, we were selling 1600 photos a day).




My models and I work really hard and we make a living out of our work, so the meme situation is just an anecdote that can be curious, but we haven't worried about it until now that's starting to get out of control.




I never thought that one of my images will be that popular. I didn't even know what a meme is until recently, when the models started to tell me about the memes that people were doing with our work.




We work exclusively creating advertisement photography for image banks, so those images are created for that purpose on microstock agencies. Our top selling images get more than 5000-6000 sales a year, while the meme photo is sold around 700 times a year.




As you can imagine, we can't worry about each one of the particular uses that have been given to our photos, as we focus on creating content that can be sold thousands of times, even though the meme situation can be surprising.




The popularity of the meme, for the reasons that I said before, has taken us by surprise. The models discovered the meme on social media and they told me about it. None of us could image the media repercussion that it has reached right now.




Due to the privacy policy of our company, I can provide you any personal detail of the models. Two of them work exclusively for many since a few years ago and they will be glad to answer your questions if you send them to me. You can call them Laura or Mario, as these are their stage names.




We work exclusively on advertisement photography for microstock agencies as I explained before, so the origin of this picture was purely for work reasons. The session took place in mid-2015 in Gerona (Catalonia, Spain) and because we were having a great sales response to our work, we decided to take a few risks planning a session representing the infidelity concept in relationships in a playful and fun way.




The setting was completely improvised as we didn't have time to search for it. As I always work with the same models, it was quite easy to create the situation even though it was quite challenging to achieve face expressions that were believable. Mainly, because we always have a really great work atmosphere and almost all the time one of the models was laughing while we were trying to take the picture.




Even though it's true that sometimes we can create a series of pictures around the same concept in its different phases, we mainly try to create content that sales, and looking at the numbers we are right most of the time ;)




Right now, we have almost no images without sales and the profitability of each session is high, giving us the option to take risks and try new ways of creating content.




Two of the models and I, have a great personal relationship, and the other model, we stopped working together around a year ago. Laura started working with me 5 years ago and Mario 4 years ago and I care about them as they were my kids. It's not just saying, we have a real emotional bond that exists both inside and outside work. They know that we count on me for anything and the same about them. They work exclusively for me and they are as great people as their work is. They are extremely professional and responsible, always willing to do whatever it's necessary. I can't ask for anything else. We have complete trust and confidence in each other.




We are not worried about the meme situation. At least, until know that it hasn't created any problem. We will see what happens hereafter.




Memes haven't given any us any kind of economic profit because most of the images haven't been sold on the microstock agencies, they are being used without purchasing the proper license on those agencies. The sales that are related with the memes are probably a 0.00000% of our monthly revenue. It's not relevant.




Regarding if I'm worried about the negative repercussions or that the images are used in a pejorative or offensive way, our position is clear. All our images are subject to copyright laws and the license agreements of the microstock agencies.




It's not allowed to use any image without purchasing the proper license in any possible way, so each one of the people that use the images without the license are doing it illegally.

This is not the thing that really worries us, as they are just a group of people doing it in good faith, and we are not going to take any action, except for the extreme cases in which this good faith doesn't exist.




What really worries us and we are not going to allow it, taking the appropriate legal measures, is the use of the images in a pejorative, offensive or any way that can harm the models or me.

I'm talking, for example, about the image where their faces are changed by a dog face, a garbage bag, and a dog food bag.




Regarding what I think about the photo has gone viral, I think the image was a good foundation to whoever had the great idea to turn it into a metaphor that works for almost everything. And that's not our merit.