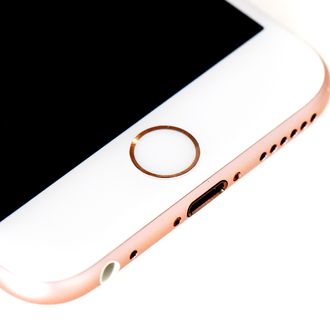 A new addition to iOS's beta software contains a quick way to disable Touch ID on a user's phone, deactivating the fingerprint scanner that makes it easier for law enforcement to access phone data. It adds a new setting called "Emergency SOS," in which clicking the sleep/wake button on the side of the iPhone five times will cause the phone to automatically contact emergency services.
The secondary effect is that it forces a user to enter their passphrase in order to re-enable Touch ID. It unintentionally (or maybe intentionally) functions as a shortcut for disabling the sensor. In current versions of iOS, Touch ID can be disabled in the settings or via a restart, both of which are relatively cumbersome compared to clicking a button five times. On Twitter, some users referred to the discovery as a "cop button," a discreet way of disabling Touch ID in a pinch.
The reason this is interesting is because law enforcement has varying treatments for a user's alphanumeric password and their biometric one (and the courts haven't settled this matter yet). Police cannot force people to give over their password after an arrest, but they can use a person's fingerprint without their permission because that information is collected in the course of booking someone. Also, iOS 11 will reportedly have a feature that unlocks the phone by scanning a person's face, making law enforcement's investigatory work even easier.