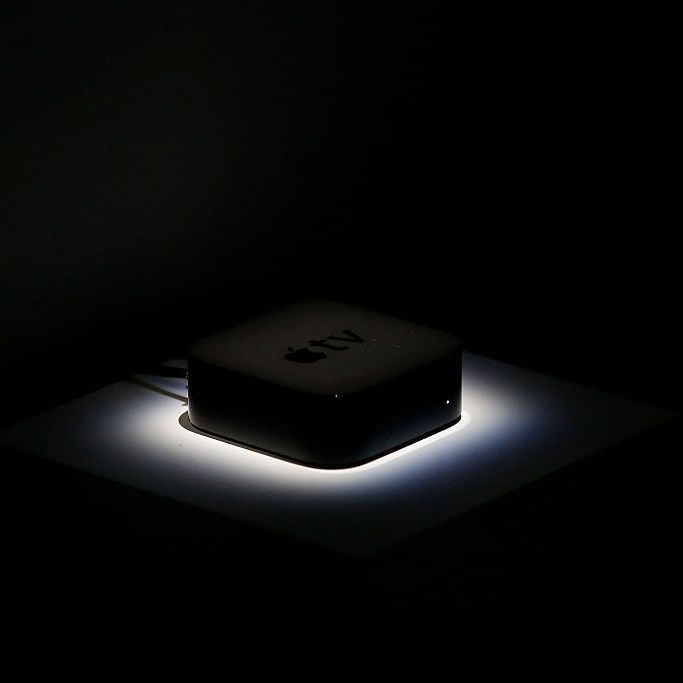 The fourth-generation Apple TV on display in October 2015.
Photo: Stephen Lam/Getty Images
With the HomePod hitting store shelves this holiday season, Apple is still clearly up for a fight for what OS runs people's homes. According to Bloomberg's Mark Gurman, Apple will also roll out a new version of its Apple TV streaming device, which will now be capable of playing 4K video and content in HDR (or high dynamic range, which allows for brighter, more vivid colors).
Apple TV has faced strong headwinds both externally and internally. Externally, it currently lags behind Roku, Amazon's Fire TV, and Google's Chromecast in the marketplace, actively losing market share from 2016 to 2017. Internally, Apple's demands for high margins on its products meant that the Apple TV had to be sold at a high price, while failing to keep pace with its competition — 4K and HDR streaming have been available in most other streaming devices for more than a year, and Apple hasn't updated the Apple TV since October of 2015. And more ambitious projects, like actively anticipating what show or movie a viewer would want to watch next, were reportedly killed before they could be developed further.
Apple is very capable of selling products at a higher price than the competition, but it relies on the tight integration of software and hardware and superb user interfaces to do so. Apple TV and its tvOS have, to date, failed to provide that. Apple TV has a nice visual sheen, but the main features I want out of a streaming box — quick search, aggregating everything I could potentially watch, and helping me discover new things to view — is capably handled by the competition, most notably Roku. You can pick up a 4K- and HDR-capable Roku for $80 right now. A 1080p-capable Apple TV — now nearly two years old — is almost twice that, at $149.
In some ways, it would make more sense for Apple to simply abandon the space, the same way it left behind Wi-Fi routers, where it similarly struggled to keep pace with the competition in features and price. But Apple can't leave the TV behind for two reasons.
One, it increasingly relies on its services division for revenue growth — which means selling music, movies, and television shows. Apple has also dedicated $1 billion to developing original content, though that's far less than what Amazon and Netflix spend, and Apple's initial forays into original content, Planet of the Apps and Carpool Karaoke, are less than compelling. Still, Apple TV is an important part of selling content, even if device sales will never be a significant portion of Apple's revenue.
More long term, the living-room TV (along with smart speakers) may end up being the hub of the smart home, and Apple has spent resources and long years developing its HomeKit smart-home ecosystem. The smart-home market remains murky — it's hampered by competing standards, slow adoption, and the difficulty of retrofitting older housing stock for smart-home products. But it's also a market that will for the foreseeable future serve affluent and tech-friendly (if not tech-savvy) consumers — in other words, Apple's ideal customer.
Still, while a new Apple TV may bring it to parity with the competition, it'll need to do more than keep pace to shift its fortunes in the market. It'll need to do something revolutionary.